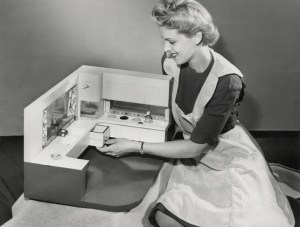 No room in the house can heat up passion quite like the kitchen. You might, of course, put a good word in for the bedroom, but nothing really beats the center of the modern home for mixing gender politics, family togetherness and, more recently, environmental issues.
"Sometimes a kitchen is just a kitchen, but not often," Roberta Smith, of The New York Times notes, in a review of the MoMA's yummy new exhibit about the modern kitchen. "If a house is a machine for living, as Le Corbusier said, then the kitchen is its engine. If that machine is seen as a living organism — a house that is a home — then the kitchen is its heart and brain," she continues.
Today the curators pointed us to a 1943 issue of Life magazine where our ancestors predict what modern culinary facilities would look like. Right after a sandwich recipe featuring spam sausage, we find the modern woman in four-inch heels with shiny curls preparing the modern meal.
Here are some highlights:
1) In-sink "electric garbage unit grinds parings." Check.
2) "Faucets handles, which are a great hazard to dishes and chins, are controlled by foot pedals." That actually seems like a good idea.
3) The oven is made entirely of glass and has shelves that move up and down automatically, so "housewife can see roast cooking, regulate temperature, raise or lower roast with door closed." Interesting, but also possibly dangerous.
But most optimistically of all, when "housewife" is done her work, "kitchen doubles as playroom." Well then.
Here we look back at what they thought our modern cooking facilities would look like and what a couple of modern designers think they'll look like in 20 or 30 years.