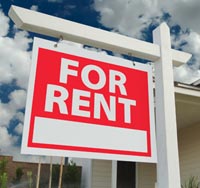 It's up, it's down. The New York apartment rental market has stymied a lot of great minds in the last couple of weeks. Not to mention us.
First, came a report at the end of August that vacancy rates had dropped slightly and rents were up. Landlords smiled.
Then, just a couple of weeks later we wrote about a report from Citi Habitats showing that Manhattan vacancies rates had actually climbed, up to 1.1 percent from 0.8 percent. Landlords had cut back on incentives, which caused a decline in new tenants, the report said. Tenants smiled slyly.
At the time, we predicted they would be just a little concerned, since let's face it, that still makes an apartment in the city a pretty tough find. Gary Malin, Citi Habitats' president, told us the vacancy rate would have to shoot above 2 percent to really freak them out.
But others disagreed. Crain's reported the "return of rental freebies!" Prompted by concern over the new report, landlords were desperate to lure back new tenants. Except the article doesn't actually quote a single landlord who plans on offering new incentives, and all of the stats point to the idea that landlords are cutting back.
Now, The New York Times says "landlords are back in control"! The Times gabs with Mr. Malin about the report, and he says "landlords are back in the driver's seat." They "did what they needed to do last year, but they're not giving money away this year, and threatening to leave doesn't threaten owners as much as it did a year ago."
One serious possibility is that no one has any idea what's going on, and helpless reporters just print whatever the talking heads say without pausing to reflect whether any of it makes any sense.
Another, is that there may be an odd logic to what's happening. In 2008, during the deepest doldrums for the residential sales market, rental prices in New York actually climbed 9 percent. That was likely caused by people abandoning plans to buy a place, and reconsidering renting one, economists said at the time. There is, therefore, some reason to expect the market could soften a bit if more people begin to reconsider buying.
A final possibility, as stock market analysts sometimes note, is that equivocal news is better than bad news. If renters and landlords aren't acting as a herd, but instead making individual decisions, its means that people are starting to contemplate their options rather than just panicking. And that, we can all agree, is a good thing.
lkusisto@observer.com