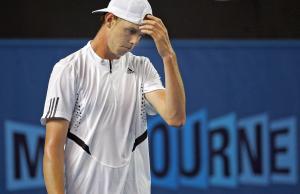 After Sam Querrey's second round win, he said he's "not a huge fan of the scheduling this week."
And how come? He feels like he–and his fellow Americans–have been snubbed.
"We have a lot of Americans here," he said. "None of us play on center court. If you go to the French Open, they have Gasquet, Benneteau, Monfils–they're on center court every day."
He's right, of course. Other than Andy Roddick and James Blake, prominent Americans like Querrey, John Isner and Mardy Fish haven't gotten a match there through the first six days of the Open.
But if you ask Mardy Fish, he's just fine with it. After his riveting five set victory yesterday, he credited the Armstrong crowd to leading him to victory.
"Well, obviously it's a great atmosphere. The people are sort of on top of you. There's not much room back there. And it seems like the best matches throughout the tournament happen either on Armstrong or on Grandstand. There's been quite a few 6-0, 6-0s on Ashe, it seems like. For whatever reason, they haven't given the Americans a look at Ashe this year, except for Andy one match. So we become accustomed to playing out there. I mean, you just get goosebumps playing a match like that when the crowd's like that."
Well, the schedulers have an answer, but not one that's going to put Querrey on Ashe. John Isner will play at 7 tonight against Mikhail Youzhny on center court. Querrey will play at around 12:30 on Louis Armstrong. Maybe he should buy into the magic the way Fish has! Or maybe he just misses the Samurai, his support group that hasn't made an appearance at the Open (more on that later!). If Queerey wins his third round match, he's poised to play Andy Murray, and that will certainly get placed on Ashe on Tuesday night.