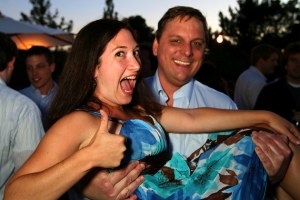 AOL has officially purchased Techcrunch. The media giant has been eyeing the indie blog since as far back as 2008. But a quick look at AOL's recent slide in covering the tech sector shows why it finally sealed the deal.
A year ago Endgadget and Gizmodo, the respective tech blogs of AOL and Gawker, were fairly even in terms of traffic. That trend held until about January of this year, when AOL even briefly took the lead.
But 2010 has been all Gawker. It passed AOL in February and proceeded to more than double its traffic in April thanks to a lost/stolen iPhone 4 prototype and a police raid on the offices of Gizmodo editor Jason Chen.
Since then, Gawker has maintained its lead while AOL has stayed flat. A new tenor of coverage has come to dominate in technology news. Gizmodo turned a boring gadget preview into a multi-week soap opera. As last week's Angelgate saga showed, buying Techcrunch would allow AOL to have a voice in the more tabloid style tech journalism that increasingly drives pageviews online.