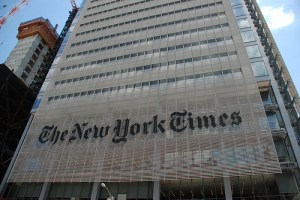 The New York Times has joined Gannet, USA Today and The Washington Post to invest $12 million in Ongo, a Silicon Valley startup that helps aggregate news from multiple publishers.
Ongo was founded by eBay veteran Alex Kazim, who has also held roles as President of Skype and VP Marketing at PayPal.
Kazim recently launched and then shuttered Tokoni, a combination blogging-platform and social network that was supposed to help users share stories with one another. Hopefully he's learned from that experience and can bring somethig fresh to the table with Ongo.
Since there are already plenty of great services for aggregating free news, Ongo aims to create a reader that will interact with multiple paywalls from different publishers. Perhaps these newspaper companies are banking on the idea that a well developed aggregator across multiple outlets will be an enticement to readers to pony up for a paid subscription.
This seems like a bit of a stretch to Tech Observer, but hey, several publishers are already paying The Times for advice on how deliver content to the iPad and iPhone through it's Press Engine service. In the world of newspapers, folks are pretty desperate for ideas.