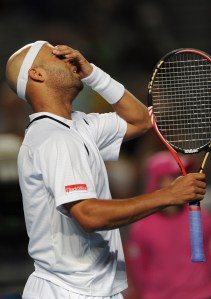 James Blake and Novak Djokovic are, surprisingly, playing the night match tonight, which means most of you won't get to see it.
Why? Because today is CBS' first of coverage and once their broadcast is finished, Open matches will run on The Tennis Channel while ESPN2 plays Nascar and College Football (don't want to miss that all too important Cincinnati v. Fresno State match). Time Warner does not run the Tennis Channel unless you pay for it.
This is extremely disappointing because Blake and Djokovic is shaping up to be a great match. James Blake, playing the role of a poor man's Agassi 2005, is playing with a nothing-to-lose spirit. It might be his last match at Ashe, a court that he hasn't played on this year, but has regularly seen since 2005. He'll have something to prove. Djokovic, meanwhile, is one of the most entertaining players in the game and if Blake comes to play, he's guaranteed to make it a good show.
The one thing in common between the two is their absolute determination to play ridiculously dramatic five sets matches on Ashe. They've done it a bunch, and I have almost no doubt that this one will go the distance again (with, naturally, Djokovic winning).
This is most likely CBS' fault. The network gets 7 hours of coverage on Saturday and they've decided to schedule two women's matches and a men's match to ensure that their block is filled without running over (or leaving a match midway through). They probably (and correctly) estimated that the Djokovic-Blake match could be a three to four hour marathon. If they ran that match, plus the Sharapova-Capra match plus Federer they would wind up spilling over. CBS wants Federer–and no one is relegating him to a bad time slot on Saturday night–over the American and the always entertaining Serb.
Good news is this: You can watch it online (as Henry Blodget pointed out), or you can go to http://twitter.com/koblin and I'll keep you updated