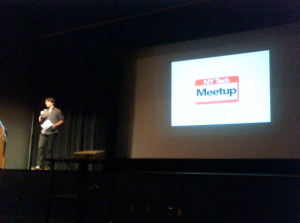 The Transom likes any event at which baked goods are handed out as entrance party favors. So, last night's New York Tech Meetup started off on a high note when presenting startup Jibe–a socially networked job board; Conde is a launch partner–gave away custom shortbread-like cookies on the way in, each adorned with a frosting job posting. One is probably not supposed to eat in NYU's Skirball Center, but isn't Silicon Alley all about disruption and breaking the rules? Or something.
The presentations opened with a slick demo from Apture, a tool that publishers can implement to allow users to search without leaving the page. Clearly the Apture presenter had practiced in the mirror and had the timing down pat, which we appreciated. Then, a gentleman from a company called NearSay took the stage, showing a hyperlocal news site of sorts. And to complete the lightning round of opening demos, the team from MeetMoi did a clever demo of a dating app, which also plays off location. We give them points for demoing on Android, and for the sweet if predictable heart icon that shows up in one's notification tray when a "match" is within range. Also, points to their lead presenter, Andrew Weinreich, for having decisive, eloquent answers to the audience questions thrown at him.
After an introduction from NYTM organizer Nate Westheimer, a prison-striped blouse clad Reshma Saujani took the stage to discuss her candidacy for congress and her passion for technological entrepreneurship. The Transom tried to follow her train of thought about legislation surrounding an "Innovation Fund," but a tweet from Charlie O'Donnell seemed to say it all: "Last thing we want is govt investing in startups. Please leave it to experienced investors," he wrote. She signed off by asking audience members to tweet about the upcoming primary election. The request was a good enough idea in a broad sense, but perhaps a suggestion to use the #gotv hashtag and promote election awareness would have rung truer than a straightforward demand for @reshma2010 shilling.
Not to be outshone by the new kids on the block, Google sent a very intelligent-seeming engineer to discuss Google goggles, an application that guesses what objects are present in photos users submit. His photos of a can of Boddington's ale and a book cover were mildly interesting, but then he pulled out the big guns and presented a mind-bending invocation of a Verizon ad. Outside of saying it appeared as if a 3-D orb was exploding out of his Nexus One, there's not really a way to describe it. Then, a mind-reading robot manufactured a personal-size pizza with extra mushrooms and delivered it to the Transom's seat. Not really, but the moral of the story is that technology is just wild.
As the night wound down, Jibe took the spotlight and mentioned that the job posts on the cookies were real. By that point, Charlie O'Donnell had already eaten his. A few more presentations ensued, including one from Grovo, a service that provides educational videos, and from a charmingly foreign gentleman whose platform, Kodingen, allows developers to work on the cloud. In about 45 seconds, he made an application that pulled in tweets with the #nytm hashtag. The audience erupted in laughter when the top result was a tweet insulting the Kodingen presentation, but he took it well and soldiered on, and the Transom sort of wanted to give him a hug. The final demo of the evening came from a dapper-looking young man who has created custom-shirt making software. Besides the fact that the demo shirt he made would never pass the girlfriend-approval-test he made reference to, it seemed like a solid concept. That is, for when people in the New York tech community start deciding they care enough about haberdashery to spend upwards of $100 on shirts.
Afterwards, Meetup-goers moved around the corner to Amity Hall for drink specials courtesy of New Work City, the recently relocated coworking space that lots of entrepreneur types call home-away-from-home. It was the perfect early fall night, and the crowd spilled out of the open-front bar into the streets. The tech-types chatted and drank, and maybe a couple or two connected on MeetMoi, closing some kind of karmic infinite loop.