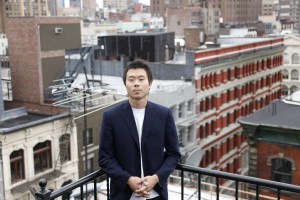 Ed Chen began his long-shot, two-year campaign to take out Assembly Speaker Sheldon Silver with a simple email.
The email, sent out to 30,000 Columbia alumni, detailed how Mr. Chen, 28, and a candidate for a Ph.D. in environmental engineering, was planning on running against Mr. Silver in 2012, and how his group–Real Deal Democracy–was looking for other candidates who wanted to "form a caucus to reform the procedure of the assembly, so that the 151 members of the Assembly do not have their voting power concentrated into a single man" and how he wanted to create "athenian-style community lending authorities."
Mostly dry stuff, no? But when Columbia got word, they shut down Mr. Chen's email account, and in an interview last week, he was preparing for a meeting with the dean. Then Mr. Chen was unceremoniously fired from his internship with an Upper West Side assemblywoman, who was none too pleased to find out that her young charge was challenging her legislative leader, possibly the most powerful person in New York State government.
Undeterred, Mr. Chen invited those interested to a party on a hot August night at the Soho loft that he shares with his fiancée, Tara Cronin–he says the two won't get married until same-sex marriage is legal in New York–to make his first stump speech in what may be the longest campaign for the State Assembly in history. (To be clear, Silver is up for reelection this year; he is running unopposed; Mr. Chen is running to unseat him in 2012.)
'My strategy is to get the Chinese vote and build up the hipster vote on the Lower East Side,' said Mr. Chen. 'The way we plan to do it is to hold these parties.'
About 70 people paid $8 to sip on microbrews and engage in the practice of democracy. The crowd mostly consisted of friends of Mr. Chen's, and they were mostly young, fashionably dressed and seemed to have displayed scant interest in local politics until now. DJ Rabbi Darkside spun.
"I've sort of been always really frustrated as a voter," said one attendee, a graduate student. "Like I'm voting for these people that I really have no emotional connection with, or, like philosophical connection with, and then I have this tiny vote that really doesn't count for anything, and then they get into office and I have no gauge if they are going to give a shit for the next four years."
"I got the email, and I am intrigued by anything that talks about taking down Shelly Silver," said another, who wisely decided against giving his name. "I work in real estate, though, so I guess I shouldn't be."
Talking about reforming Albany, which is routinely derided as the home of the nation's most dysfunctional state legislature, is all the rage right now. Former mayor Ed Koch this summer launched a campaign called NY Uprising, which forces legislators and candidates for office to sign a pledge to support an independent redistricting panel and a more transparent budgeting process or to risk being outed on his Web site. Hundreds of candidates and elected officials have made the pledge. Carl Paladino, the Republican candidate for governor, has called Mr. Silver a "dictator."
Bill Samuels, a wealthy Democratic donor, has started his own effort, called the New Roosevelt Initiative, which gives money to candidates "with a goal of a truly great State Legislature in 2014." Rick Lazio and Assembly Minority Leader Brian Kolb–Mr. Silver's G.O.P. counterpart–both have plans to rewrite the state's constitution.
"On the far chance that I beat [Silver]–actually, I don't think it's that far of a chance–but even if I beat him, the system won't change," Mr. Chen said before launching into a long explanation about the comparative centralization of power in China versus the Soviet Union. "There is just a general dissatisfaction and even rage against Silver that it is necessary to galvanize support around."
Mr. Chen may seem like an unlikely revolutionary. Slight and soft-spoken, he is writing his dissertation about carbon sequestration. He touts the perfect 1600 SAT score and has also started an online company that sells oolong tea imported from Taiwan.
Mr. Chen and Ms. Cronin, a 29-year-old artist, moved into Mr. Silver's district in Lower Manhattan expressly for his run, in an apartment that her parents bought. At the party, she announced that they plan to turn the couple's living room into an art gallery.
"I am not a very political person," she said before being interrupted by a woman who stumbled out of the party wondering about bartending opportunities at future fund-raising events. "I am trying to be … All I know about [Mr. Silver] is that he has been in power for 16 years, and that's not cool."
Mr. Chen's plan is to get 50 candidates to run against the entrenched interests of Albany under his banner, with him at the front of the front of the battalion, heading into the breach against the powerful Mr. Silver.
Mr. Silver has been in the crosshairs of neighborhood reformers before. In 2008, two challengers ran spirited primaries against him, forcing Mr. Silver to stump around the district for the first time in years. One of them, Paul Newell, was hanging out on Mr. Chen's roof deck with the rest of the partygoers.
He declined to talk about his plans, but most downtown political observers suspect that Mr. Newell is gearing up for another run. In 2008, there were rumors that Mr. Newell's rival challenger, Luke Henry, was a Silver plant designed to split the vote.
Mr. Chen said he is not worried about a split vote this time around.
"My strategy is to get the Chinese vote and build up the hipster vote on the Lower East Side," he said. "The way we plan to do it is to hold these parties and meetings over the next two years, and really getting young people, really getting them involved."
Getting young people involved is often the formula for electoral defeat, but Mr. Chen and his cohort plan to hold a series of meetings over the next two years to get input into their agenda and, of course, to turn Mr. Chen's roof deck into ground zero for a new movement for political reform.
In the meantime, the Hong Kong newspaper Sing Tao Daily has picked up Mr. Chen's story and blasted it around the world. And Mr. Chen has gotten his email account back, which has allowed him to continue his work on carbon sequestration.
"It's been very frustrating. I couldn't do any work the entire time," he said. "Oh, well. I'm not too worried about Columbia University."
–David Freedlander