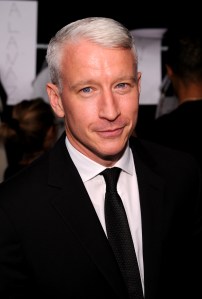 Nighttime cable news anchors do not normally consider making a move to daytime television but, accoring to The Hollywood Reporter, CNN's Anderson Cooper is in talks with Warner Bros. to host a syndicated daytime talk show. Sources told THR that CNN and Warner Bros. have been negotiating an arrangement for Mr. Cooper for over a month, and a deal may close by the end of the week, with a show launching in the fall of 2011.
Andersoon Cooper is flagship talent at CNN, but he doesn't have the ratings to prove it. After CNN Worldwide president Jim Walton announced at the end of last week that HLN's Ken Jautz would be taking over CNN, Mr. Jautz said that Mr. Cooper is "extremely" important to the netowrk. "Anderson Cooper is the standard bearer for the type of journalism that CNN has become famous for and that we want to continue to be known for," Mr. Jautz told THR. At the same time, Joe Pompeo noted that Mr. Cooper's ratings (total viewers) in the third quarter of this year are less than half of what they were in the third quarter of 2008.
Anderson Cooper 360 faces new competition at the 10 p.m. hour from Lawrence O'Donnell's new show on MSNBC, The Last Word, which got off to a very strong start.