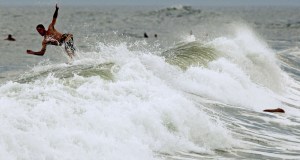 There is a hurricane that will have peripheral impact on New York! You've already moored all your boats, so what else is there left to do? Go surfing of course!
With Hurricane Earl bounding up the Eastern Seaboard at a speed of 15 knots, the beach bums are grabbing their boards and heading to Rockaway. A story in the Daily News investigates just how stoked the city's surfers are for the bodacious waves headed this way.
The surfers, they say, are "salivating." "It's gonna be double overhead on Friday — double your height!" Jessica Findley, a 33-year-old designer from Williamsburg, told the Daily News.
So while North Carolina residents are being evacuated from their homes to protect themselves from what could be the worst storm to hit the Atlantic Coast since Hurricane Bob in 1991, New Yorkers can take advantage of the less-threatening weather and shred the riptide. Hang ten, dude!