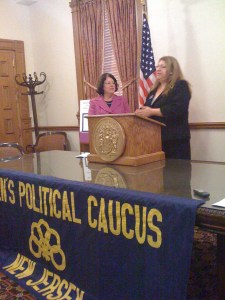 In a not-so surprising move, the Women's Political Caucus of New Jersey endorsed Assemblywoman Linda Greenstein Tuesday in her bid for the 14th District Senate seat.
Greenstein, a Democrat from Plainsboro, is seeking to unseat Republican Tom Goodwin of Hamilton in the special election to fill the final year of the term vacated by former Sen. Bill Baroni.
In accepting the endorsement – and the $5,000 campaign donation that went with it – Greenstein said women have come a long way in politics, but there is still more ground to cover.
"Even 90 years after women earned the right to vote there is clearly still much left to do," she said citing statistics that show only 28 percent of the members of the state legislature are women and only 14 percent of the state's municipalities are represented by women mayors. "We certainly are better than we were five years ago but still not where we need to be."
Greenstein used the event to continue touting her support for family planning funding that was carved out of the state budget by Gov. Chris Christie.
After several female legislators said they found the $7.5 million to pay for the funding in another budget line item, both houses voted to restore the funding. Christie promptly vetoed the measure and Greenstein and others including Sen. Loretta Weinberg, pushed for a veto override.
Before the override measure could gain any traction, several Republican lawmakers who had supported the initial bill withdrew their backing.
Tuesday Greenstein said she is not overly confident the override will pass when it comes before the senate next week.
The 14h District covers Hamilton, Plainsboro, Monroe, Cranbury, Jamesburg South Brunswick and West Windsor.
The 14th is considered a bellwether district in the state and has taken on added importance this year as it could signal the fate of the legislature in the Christie era. The 14th is loaded with state workers, who have been at war with the governor over his pension and health care reform ideas as well as his budget cuts.
A victory by Greenstein could signal that Christie's aggressive agenda is backfiring, while a Goodwin victory could signal a decline in power of the public sector unions.