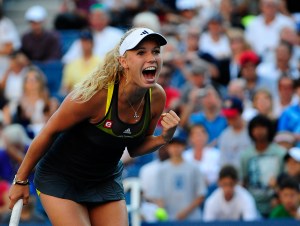 Caroline Wozniacki is not Dinara Safina. She is not Jelena Jankovic. She has earned her no. 1 seed, and she is going to win a Grand Slam.
For the second straight year, Wozniacki took to the Ashe court in beginning of the second week, and flourished. Last year, it was walloping Melanie Oudin in straight sets–to the disappointment of everyone–and, this year, it's a victory over former Open champ Maria Sharapova in front of a full house and a national TV audience. Wozniacki dropped more games in this match–only seven–than she has in the entire tournament, but she showed a mental toughness that so few players on in the WTA have shown in the last five years.
Usually, having a no. 1 seed who hasn't won a Grand Slam is prima facie evidence that the women's game is in ruins. We've seen it time and time again here over the last few years. Wozniacki is most definitely the exception. This is someone who is growing up on center court and learning how to win big matches. For every loud grunt, and booming forehand and backhand that Sharapova displayed–proving she has the heart of a champion even if she hasn't pulled her game together quite yet–Wozniacki responded by sending Maria into long rallies (complete with moon shots!) until the inevitable unforced error. Last year, Wozniacki played her semifinal match before a tiny audience at Armstrong, and played an Ashe match before a similarly small crowd this year. Today, with a big crowd for Labor Day afternoon that was decidedly pro-Maria, she didn't betray any big stage nervousness.
But let's go back to those double faults. Sharapova, for a third straight year at the Open, has been undone by her serve. She had nine doubles today, and won only 34 percent of points off her second serve. Three years ago, it was against Aggie Radwanska in the third round. Last year, it was against Oudin in the third round. This year, it's Wozniacki (Sharapova didn't play in the tournament in 2008).
Sharapova said that Wozniacki used the wind really effectively, an unusual compliment. Wozniack is smart. When Caroline said before the match that she admired Martina Hingis growing up, it makes sense. Her stat sheet, like Hingis', is nothing to marvel at. She had 16 winners and 10 unforced errors in a 2-hour match. Low numbers for both. She only had two aces. But like Hingis, she has all the intangibles, plus a great bakchand. And what else is Wozniacki better at, Ms. Sharapova?
"She's much steadier," she said.
"I believe in myself more," said Wozniacki.
And because Wozniacki's style of play is so different from the other top women's players, we have a chance to see some very exciting action at the end of this week.
Barring a collapse, Wozniacki should have a walk to the Finals. She'll likely face either Venus or Kim Clijsters, and those will present enormous challenges, but we're really, really starting to like her chances.
FOR COMPLETE U.S. OPEN COVERAGE GO TO HTTP://OBSERVER.COM/USOPEN AND HTTP://TWITTER.COM/KOBLIN