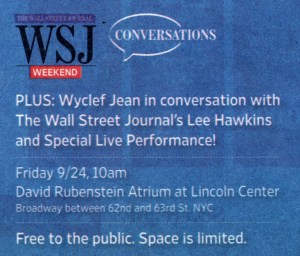 Tomorrow morning in Lincoln Center, Wyclef Jean will discuss the end of his candidacy for the Haitian presidency with Wall Street Journal reporter Lee Hawkins and then perform some of his music at Lincoln Center. ("If I Was President"? Or maybe some of his earlier work? "Gangsta Girl"? The audience could easily pick up Lil' Kim's part). The event is the first in a new events series from The Journal called "Conversations."
The idea is reminiscent of The New York Times series "Times Talks," which cost $30 to attend, but admission to "Conversations" is free. Video of the events will be posted on The Journal's website the next day and there the newspaper might make some money off of sponsorships, too, but the main idea behind the new series is to drum up attention for the launch of the weekend edition this Saturday, according to a spokeswoman for The Journal.
The series is branded as new, but it also follows in the footsteps of "Summer Scoops Live," a series launched by The Journal last summer that featured Ahmir Halib "?uestlove" Thompson and Moby. The Journal has also been holding coffee house–style sessions under the name "WSJ Café" hosted by Chris Farley, who edits the arts blog "Speakeasy,"and filmed live in the paper's office before an audience of editors and reporters.