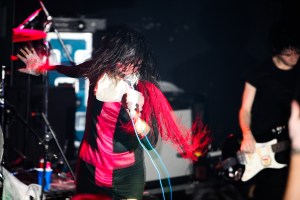 Following secret performances by Iggy Pop and Courtney Love, the red-hot Don Hill's hosted the Yeah Yeah Yeahs for the Dazed and Confused after party last night. Owner Nur Khan held court once again as familiar faces such as Terry Richardson, Charlotte Ronson, Juliette Lewis and Josh Hartnett — a fixture at Paul Sevigny's Beatrice Inn — watched Karen O unleash her own special brand of crazy onstage. When The Observer arrived, we were told that the club was at capacity, and for the first time in the history of nightlife the bouncers were not lying: the place was impenetrable all the way through, nearly double the size of any crowd we've seen at the place yet. Word has gotten around.
We took to the raised sitting area above the bar — a welcome reprieve from the madness of the mob below — where we found ourselves surrounded by tubs of complimentary Red Bull. But we could only keep out of the fray for so long, and when the Yeah Yeah Yeahs, who were hosted by frequent partner DeLeon tequila, took the stage we braved the heart of the now-muggy stage area. The show was unsurprisingly spectacular, highlighted by Nick Zinner's guitar acrobatics during a spirited bashing-through of the classic "Maps."
Afterwards, we started talking to Kelly Osbourne about the artwork on the walls. She particularly liked one of Johnny Depp getting into a car — "Soooo hot" — and of course this led to a conversation about getting behind the wheel naked. Is it something you'd ever do, Kelly?
"Hell to the fucking no!" she told us. "I don't have that kind of confidence."
The night ended for us around 3:00 a.m., with chamomile fan Waris Ahluwalia walking around with a girl on his arm and the remaining kids mouthing the words to New Order's "Age of Consent." Ah, yes — after just four nights here, it already feels like home.