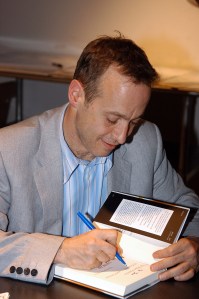 David Sedaris has a new book of Aesop's fables-style animal stories and recently sat down with Vulture for an extended interview. As usual, he was forthcoming on a matter of subjects.
On movies: "Most good movies have a gun in them. They don't have to be all about people shooting at each other the whole time, but I like for someone to be armed."
On verisimilitude in his stories: "I opened with a quote from the New York Times, and I thought, No, the New York Times doesn't really belong in this book. So I thought, I'm just going to have a rat convey that bit of information. If people don't believe it, that's their own business." [Emphasis theirs]
On fantasy audiobook casting: "Elaine Stritch reads four of the stories."
On being a fan of audiobooks: "I don't like being left to my own thoughts. If I'm riding my bike I just replay the same scenarios over and over in my head, like I haven't had a new mental adventure since high school."
On being called a "writer": "Once I was at The New Yorker I said, 'Okay, I can call myself that.'"
On people who write in to correct his grammar: "I guess they're kind of applying for jobs as copy editors."
On whether or not the president is circumcised: "It's actually a good question because it's a hard question. There are many factors to consider."
The interviewer, the lovely Aileen Gallagher, picks up on a Raymond Carver feeling in the stories, which is appropriate because, according to this other long interview, Mr. Sedaris once accidentally wrote a Raymond Carver parody.
Earlier: David Sedaris Is a Funny, Funny Man!