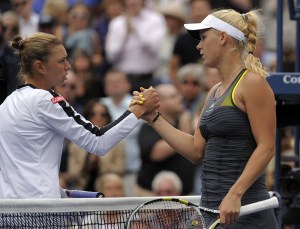 Moments after the biggest upset in the women's draw at the U.S. Open, Kim Clijsters had a bit of an urgent stride toward the women's locker room. Vera Zvonareva had just defeated Caroline Wozniacki in a surprisingly quick match, and Clijsters was suddenly in a rush because in a few minutes she would be on center court to play Venus Williams, well ahead of schedule. Not even a minute later, a defeated-looking Wozniacki walked toward the women's locker room from center court. With her eyes directly pointed to the ground, she removed her visor, flicked her long, blonde ponytail and gave a What Just Happened To Me look as she walked into the locker room.
It's certainly how we all felt. Zvonareva defeated Wozniacki 6-4, 6-3 in a incredibly short 85 minute match. This was supposed to be Wozniacki's coming out party. She had blown through the women's draw, and completed her necessary Rite of Passage by defeating a former Open champion in Maria Sharapova on Labor Day. It looked like Wozniacki had a walk-through to the Final. This is when Wozniacki would have the chance to prove that she was The Real Deal–as I argued–as she got ready to take down a former Grand Slam champion in the Final. She already was turning herself very quickly into a New York star. But without the hardware, Wozniacki will still have to prove next year that she's a real competitor–and do something more than her idol, Anna Kournikova who never won a major–if she wants to have the full red carpet rolled out for her.
Vera Zvonareva, who I've barely mentioned on this blog, is heading to her second straight Grand Slam final after absolutely blowing away Wozniacki. Zvonareva blitzed and intimidated Wozniacki who seemed dazed at how feisty and game-ready Zvonareva came out. Wozniacki hit 31 unforced errors compared to just 13 winners, and surrendered four breaks of serve. On a chilly afternoon, Wozniacki looked a little bit absurd wearing her absurdly short Stella McCartney dress, while Zvonareva wore an unrevealing, long-sleeved K-Swiss top that seemed to indicate the only thing on her mind was getting straight to business.
Zvonareva becomes the first player not named Serena Williams to make it two straight Grand Slam finals since Ana Ivanovic did it in 2008 (Australian Open and the French Open). Zvonareva can be unnerved, and emotionally fragile, but if she comes out the same way tomorrow night as she did today, she could be–surprisingly–a competitor in the Finals.