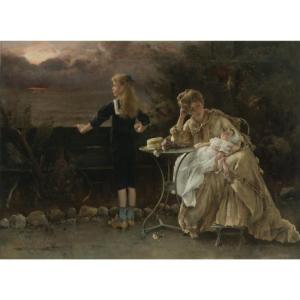 Two 19th century oil paintings owned by Demi Moore will hit the block at Sotheby's in November. Ms. Moore is selling "Frère et Soeur" by William Bouguereau and "Mère et Ses Enfants," by Alfred Stevens because she's rethinking her art collection. "I'm going a bit more modern," She told The Times.
Ms. Moore bought both of the paintings at auction from Christie's in 1995. She's expected to make a tidy profit on the Bouguereau, which she bought for $178,500 and could go for $1.5 million. It's predicted that the Stevens, however, will only sell for about $200,000, which is around what she paid.
Both pieces will be sold as part of a larger November 4th auction offering 82 paintings that's expected to take in $20-30 million overall. Ms. Moore's lots are indistinguishable from the others, with the exception of an italicized heading before any of the other information that discreetly labels them PROPERTY OF DEMI MOORE.