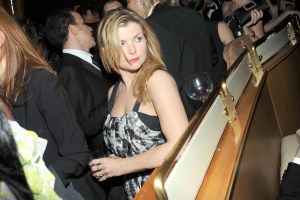 Last Wednesday night, Page Six reporter Emily Smith was at the club Provocateur in the meatpacking district at a party for the season finale of The Spin Crowd, an E! network reality show produced by Kim Kardashian.
Ms. Kardashian came and left quickly, and Ms. Smith talked briefly with the club's owner about its alleged restrictions against short women, mentioned in a Page Six item the day before. Ms. Smith is about 5 feet tall.
After a brief stop at another event nearby, Ms. Smith made her way to the Gansevoort Park Avenue, where Chris Brown was at a party for a new line of Swatch watches. She arrived late–and was rebuffed at the door.
"She just said, 'Come on, can you let us in?' She didn't say, 'I'm with Page Six," according to Alan Rish, a publicist who was out with her that night.
What Mr. Rish didn't know — and what nobody at the Gansevoort is going to let that doorman soon forget — is that a few hours earlier, Ms. Smith was let in on the biggest scoop of her career: She learned she would be taking over Page Six, the Post's gossip flagship, from Richard Johnson, its longtime patriarch.
HOW'S SHE DOING? > Check out the Scandal Report: Our Weekly Guide to the Town's Top Gossips.
The ascension of a relatively unknown Fleet Street vet to one of Manhattan's loftiest social perches had the makings of a vintage Page Six item–the sexy outsider, the mysterious future for her predecessor, and all of it set against the prospect of a renewed gossip war between the Post and the Daily News, which has been staffing up.
Immediately, a few questions come to mind: How could Ms. Smith know the scene when she arrived at the Post a little more than a year ago? Does her tenure at a British tabloid mean the sensibilities of the beloved Post column will change? How did the Post land her in the first place?
Ms. Smith isn't saying. Even though she makes her living telling other people's secrets, she wouldn't talk about her new gig, reinforcing a feeling even among her friends that she's something of a mystery.
"That's what's awesome about Emily," said Rob Shuter, who writes a gossip column for the Web site Popeater and also saw her out last Wednesday. "She's silent." Mr. Shuter called Mr. Johnson the next day to ask if the news was true. How could Ms. Smith have kept the news a secret? "She's a tomb," Mr. Johnson told him.
"She's like 5 foot tall and attractive and blonde, but she does pack a big punch. She is very calm. She doesn't show her cards," said Life & Style editor Dan Wakeford, who also saw Ms. Smith out that night and knows her from their days working together on The Sun in London. "She's not someone who would show her cards. She would take a secret to the grave."
"She's the female version of James Bond, the smiling assassin," said Piers Morgan, soon to be the new Larry King.
Former Daily News gossip columnist Lloyd Grove, who described himself, at 6-foot-3, as "large and loudish," said he was always envious of Ms. Smith's size. "She has that quality that's kind of lethal in a gossip columnist, which is seeming very harmless. She's diminutive and very charming and puts people at ease," he said. He lowered his voice into a quiet rasp: "And then she goes in for the kill."
Working for the Husband-Beater
Ms. Smith went to work on the news desk of the Rupert Murdoch-owned Sun when she was 21 after a year working on her hometown paper in Shropshire. She lived with her family in Oman and Abu Dhabi, where her father was a corporate accountant, until she was seven. She attended university at Liverpool.
She was recognized immediately for her reporting chops on the news desk and moved onto the TV beat. Soon after, she began working as a deputy on the newspaper's showbiz column, Bizarre. "The best way to describe it might be that she was quietly efficient," said a staffer at The Sun who shared bylines with Ms. Smith. He described her as friendly with her colleagues, but not particularly outgoing. "If you show any weakness, you'd just be torn to pieces. That's just the way it is in our office," he said. "If you don't deliver the goods, you're out. Simple as that."
Ms. Smith showed enormous potential at The Sun and the Bizarre column was a prized platform. It is where Andy Coulson, Victoria Newton and Martin Dunn, who resigned in the spring as the editor of the Daily News, all made names for themselves. "It's always been used by Rupert Murdoch as a training ground," said Mr. Morgan, who ran the column in the late '80s and early '90s. "If you look at the list of people who edited that column, you'll see how important it is to Rupert and News International."
While Ms. Smith was working on Bizarre, Mr. Morgan competed against her as editor of The Daily Mirror. "She was very irritating because she got lots of stories," he said.
RELATED > 10 of Page Six's Best Items Since 2007
After two years as a deputy working on Bizarre, Sun editor Rebekah Wade gave Ms. Smith a new television column, as part of a larger effort to expand celebrity coverage.
In 2005, Ms. Wade tapped Ms. Smith to move to the States to be The Sun's U.S. editor. (Ms. Wade spent a night in prison later that year for assaulting her then-husband, a former BBC soap opera star. She has remarried under the name Rebekah Brooks, and is now the CEO of Mr. Murdoch's News International.)
"At The Sun, the U.S. editor is seen as a prized position," said Life & Style editor Dan Wakeford. "Murdoch and the editors of The Sun only send the stars out there."
For the next four years, Ms. Smith covered all major news in America for The Sun. She worked nonstop, waking up early to talk to her British editors and staying up late to shore up her American sources. "She would be getting up at 5 in the morning and staying out until 3 in the morning every night," said a friend who worked with her. "She can be a little bit robotic," the friend added.
Friends tell stories about her calling from a Hummer while driving into the aftermath of Hurricane Katrina and living out of a car because there was no place to stay. Others tell stories about someone who barely sleeps and puts her career before anything else. "If she was asked by a boss on her anniversary to cover a story, I know she would. That's newspaper training–that always comes first," said one friend.
While at The Sun, Ms. Smith broke news that Paul Burrell, Princess Diana's butler, had perjured himself during an inquest in London. She also broke the news of Kelsey Grammer's secret affair and Paul McCartney's new girlfriend, and covered the Virginia Tech shootings for The Sun.
Ms. Smith remains particularly close with her father and her sister, who works in marketing for The Guardian in London. She lives with her boyfriend on the Upper West Side in the 70s.
In March of 2009, The Sun called Ms. Smith back to London. She had three months to close up shop in America and return home. "Both of us worked tirelessly never to go back," said Kimberly Bernhardt, a longtime friend of Ms. Smith's who now lives in Chicago with her family and does publicity for large companies. (Ms. Smith and Ms. Bernhardt moved to New York from London around the same time, and helped each other navigate the city's dating scene and American holidays. For Halloween her first year, Ms. Smith dressed up as a pirate.)
"I know that The Sun probably wanted her to return at times. She wanted to stay. She was very, very passionate about the city."
Ms. Smith used the three months to find another job stateside. Mr. Wakeford hired her as East Coast news director at Life & Style in June, partly to help her stay in America.
During her short tenure at the German-owned celebrity glossy, Ms. Smith broke news and left her mark on the title. Life & Style was the first magazine to suggest that Michael Jackson could have been murdered, a notion that remains under dispute.
Then, after barely three months at the magazine, Ms. Smith left for Page Six. (Her former boss wasn't entirely thrilled by the move. When Mr. Wakeford got married over the summer, Ms. Smith was invited to the reception but not the ceremony.)
The Daily News Gears Up
At Page Six, in August 2009, Ms. Smith replaced Paula Froelich, who left to focus on book writing. "To be honest with you, I didn't want to be there," Ms. Froelich told The Observer on Tuesday, talking on her cell phone while shopping for a sweater on the Upper East Side. "You know what? This is her dream job and frankly I think it's amazing because Page Six deserves to have somebody who wants to go in there every day and who loves it."
Ms. Froelich had eaten dinner with Ms. Smith in Soho the previous night. Did she have any idea what Ms. Smith had planned for the column? "No idea," said Ms. Froelich, who recently returned from a trip to Kenya. "Honestly, I was so jet-lagged last night." (She got distracted shopping. "Oh my God, somebody made a pillow out of feathers. A pillow out of decorative feathers!")
"I hope it changes," Ms. Froelich said, turning her attention back to Page Six. "Nothing is static. If you don't change, you're a rock, and rocks are boring. Everything needs new blood. Everything needs to be changed every now and again. And, you know what, I think it's great."
Chris Wilson, who left Page Six in 2006, also thinks Ms. Smith is going to do well in her new role. He worked with Ms. Smith in April when he came back to pick up a week of freelance work on the news desk at the Post. "On my first day back, she got this great scoop on Tiki Barber cheating on his pregnant wife with this hot young chippy," said Mr. Wilson. "It turned out to be the wood the next day, and we shared a byline on it."
He was impressed by Ms. Smith's ability to turn a small tip into a front-page story. "It was the difference between what could have been a tantalizing but unappealing blind item and a wood that rattled the whole media world," he said.
That night Stephen Colbert held up the Post with the "Sneaky Tiki" headline splashed across the cover. "I'd like to start out tonight, as I do on many nights, by saying bravo to the New York Post for being watchdog of our nation's morality," Mr. Colbert said on his show. Mr. Wilson said that, for gossip items, it doesn't get any better than that.
"If you can handle the sort of competitive maelstrom and clusterfuck that is Fleet Street," Mr. Wilson added, "you're gonna be just fine taking on the Daily News."
And that, in fact, may be Ms. Smith's most pressing initial challenge. Sensing a certain ennui on the part of Mr. Johnson, the Daily News has recently staffed up its Page Six rival, Gatecrasher. Frank DiGiacomo, a former Observer writer, is editing the pages, along with a new staffer.
The sense among Manhattan media types is that Page Six may now be vulnerable, though years of entrenched reading habits will make the column particularly hard to unseat.
Like his new rival, Mr. DiGiacomo declined comment.
zturner@observer.com / @zekeft