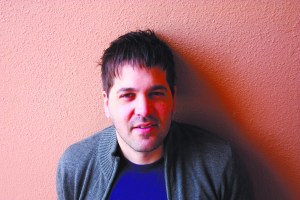 During those dark days for media in 2008 and 2009, when the freelance well all but dried up, a little savior sprung out of Abu Dhabi.
In 2008, a weekly section dedicated to reportage and art and book reviews began as an insert called The Review in an English-language newspaper, The National. Though you might not have seen or heard of it, freelance assignments went out to some of New York's finest. Book reviews were 1,600 words. Cover stories were 5,000 words. Far-flung travel assignments were assigned. It was all printed on a broadsheet! It felt like old times.
More significantly, the paper gave freelancers anywhere from 75 cents to $1 per word. Spend a night banging out a book review, spend a day or two going back and forth with edits and violà!–a check (or even a wire transfer) for $1,200. During a period when it was impossible to find an assignment–let alone getting someone to actually hand you a paycheck–this was a boon for a certain class of New Yorker.
The catcher in the rye was a former New Yorker fact-checker named Jonathan Shainin. Mr. Shainin, the editor of The Review, assigned pieces and handed out assignments to heavyweights like George Packer, David Samuels and Steve Coll.
"It was like back being in 2002 or 2003 or something," said Spencer Ackerman, a reporter for Wired.com, who was one of many freelancers who contributed to the section. "In this age of perpetual collapse, all of a sudden there was an editor with resources who told you to think big and go long."
But like all things, times change. Mr. Shainin, 32, left the paper in late September and, this past weekend, moved out of Abu Dhabi. He left, in part, because the section he brought to life began to feel like something different. Freelance rates got cut back; story lengths changed as the paper transitioned from a broadsheet to a tabloid; ambitious pieces had to be scaled back in order to give way to more–magazine editors, take cover!–"points of entry."
In about two and a half years, Mr. Shainin's Review was a perfect illustration of what's happened to the American print press in the past couple of decades–lofty ambitions took a back seat to economic reality.
The story begins in 2007, when Mr. Shainin was a fact-checker at The New Yorker and received an out-of-the-blue email that asked if he might be interested in moving to Abu Dhabi and becoming a culture editor for a new newspaper. The paper was technically funded by the Abu Dhabi Media Company, which received its funding from the Abu Dhabi government. Mr. Shainin was on the fence. One night, while he was fact-checking a piece with New Yorker editor David Remnick, he asked the onetime Moscow correspondent for his advice.
"He was like, 'Oh yeah, do it,'" remembered Mr. Shainin. "'You'd be crazy not to do this. You're young, not married, go out and travel the world.'"
So Mr. Shainin took his "blind leap" and then went and had a heck of a time.
"If you're a young person and you're trying to be an editor rather than a writer, it's hard to get a break," said Mr. Shainin, who worked for Bob Silvers at The New York Review of Books before he went to The New Yorker. "If you're not at an organization where you can work your way up, it's hard to get someone to take a chance on you as an editor."
He had a nice salary and a freelance budget. The Abu Dhabi Media Company–bankrolled by the government–said they didn't have to worry about being profitable for five years. The goal was to make it a world-class paper. What better way than to go out and find those big writers? And then it became addictive. Once one name came, another would follow. He got big-name writers like Mr. Packer, Mr. Coll, Howard French, Caleb Crain and others.
And his writers adored him.
"He'd nearly always call me at 4 a.m. AD time–not kidding–and be fresh and lucid and helpful. I joked with him that his memoir should be called 'The Dialectic at 4 AM,'" emailed Matthew Price, a freelancer who used to work at Lingua Franca, and who wrote for the section.
David Samuels recalled that after he filed a 6,000-word piece about the new Yankee Stadium to Mr. Shainin, he received a memo that was just about as long as his piece. Like any writer, Mr. Samuels was horrified when he saw it, but then went through it line-by-line and found out that it was actually insightful.
"That was something that used to be commonplace with editors at magazines," said Mr. Samuels. "In New York, there was an ethos of this kind of fine-tuned editorial attention. At some point in the '90s, this other ethos took over–that editors were kings and writers were these interchangeable parts."
"Jonathan is old school," he continued.
Mr. Ackerman, the Wired.com reporter, said he was thrilled that Mr. Shainin inspired him to "be panoramic and more analytical" with his pieces.
"My interests tend to be somewhat academic, and I just marveled that I could write about serious history books in a journalistic format, at length, and get paid quite handsomely for my efforts," said Mr. Price.
Ah, yes, the money!
"The money, of course, was very welcome, both for the surprised, grateful delight occasioned by receipt of payment ('Wait. They're paying me how much?') and for the stability regular, good money brings into the life of a ground-scratching book reviewer like me," emailed Sam Munson, a novelist and critic who wrote about a dozen pieces, and will continue to freelance there. "I wish I had more to say, or could say the preceding more eloquently, but why embroider? It was fucking awesome."
"Magazines that I looked to for a fat paycheck or easy work went out of business," said Mr. Samuels. "There was a general sense that the business was collapsing and no one really wanted to hear about that story which was going to take me to Siberia for five months. I was very grateful to Jonathan for paying me a nice amount of money to spend the summer sitting in the $5 seats at Yankee Stadium, which is where I would have spent my summer anyway."
The Yankee Stadium piece was published before the World Series, and actually had a newsy hook–it got lots of pickup.
BUT LIKE ALL these stories, it wouldn't last. Though the Abu Dhabi Media Company said it could wait five years to turn a profit, the timeline accelerated. Six months ago, the paper became a tabloid, and Review cover stories went from 5,000 words to 2,500 words; freelancers went from a rate of 75 cents to 50 cents; there were fewer assignments handed out and more and more copy was written in-house; expenses were basically cut away.
Mr. Shainin resigned earlier this summer, and moved to India on Monday.
"I think that there was a merging of two streams of thought," he said. "On the one hand, I was reaching my expiration date and working myself to death. And on the other hand, it started to seem as if it was going to be difficult to continue to make it better."
His girlfriend, who moved with him from New York to Abu Dhabi, wanted to move to India, so now Mr. Shainin is taking a senior editor job at a new magazine there called Caravan.
And though the paper still runs, and the section still functions, it's a slighter version of what it once was during that brief period when Mr. Shainin learned how to edit and New York writers found refuge.
"Jonathan did the thing that is the dream of any kid editor–start a magazine and just publish good stuff," said Mr. Samuels. "And it was terrific! I'm sad that this oil sheik isn't going to pay for it anymore."
jkoblin@observer.com