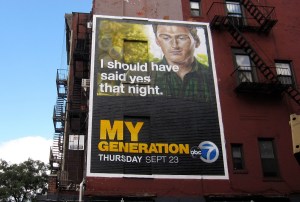 My Generation, an ABC drama that tells the story of people 10 years out of high school, has become the second show of the fall season to be cancelled, following last week's nixing of the Fox show Lone Star. ABC announced that My Generation drew just 3.9 million viewers last Thursday and said the show's remaining episodes may be shown online.
New Yorkers will know the show from its ubiquitous subway advertisements, which feature hints about the show's generic-sounding plot ("When I'm with him, I'm thinking of you") paired with photos of the actors looking melodramatic. Lone Star's ads, of course, showed one man sleeping with two different women, with a tagline that proclaimed this to be "the perfect con," so bad subway advertising seems to be a good indicator of a show's lifespan.
With a perhaps gay character and a perhaps Afghanistan-bound soldier, the ads seemeed to imply that they would tell the story of today's people 10 years out of high school. The show also seems to have taken its name from the popular song by The Who, which debuted in 1965.
Earlier: Ratings Drop Off for New Shows