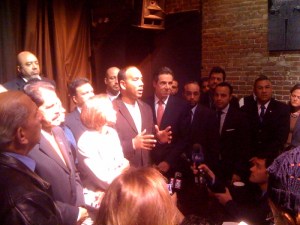 Andrew Cuomo continued his base-building on the Lower East Side this morning, hosting an hourlong meeting with Latino leaders at the Nuyorican Poets Cafe.
After the meeting, the press was hauled into the darkened theater, as several of the electeds stood in front of the stage and talked about the need to mobilize the Latino community around Cuomo.
And while their comments included the requisite niceties about the attorney general, the pitch was largely that he's not Carl Paladino.
"We really do need a steady hand and a level head," said Congresswoman Nydia Velazquez, who called Paladino a "polarizing figure" and criticized his sympathetic comments about the recent Arizona immigration law. "Mr. Paladino, let me remind you, you're not running in Arizona. You're running in New York state," she said.
Her colleague, Bronx Congressman Jose Serrano, reiterated the theme.
"Mr. Paladino is acting like he belongs in the worst elements of our country," said Serrano. "Mr. Paladino's politics has no place in New York state. And for that reason above all we have to elect this person," he said, gesturing to Cuomo.
Bronx Borough President Ruben Diaz Jr. summed it up thusly: "To paraphrase the congressmembers on Paladino, he's a straight and utter nut job."
Cuomo was slightly more diplomatic in his remarks.
"The question is not just a question of issues, that is a question of character and soul and principle and values and who we are and what we believe and what we want to be," said Cuomo, whose harshest comment was that Paladino is an "extremist" on a number of issues.
Asked what he would like voters to notice about his response to Paladino's highly personal insinuations this week, Cuomo said: "Probably more than anything, that I haven't. These have been some truly negative degrading comments and I have worked very hard not to go there, as they would say in the old neighborhood."
"In many ways, you bring the campaign into the gutter it just reaffirms all the negativity [people] feel about government in the first place," he said. "If he wants to do that, he'll go there alone. And he'll remain there alone. But I'm not going there."
"I don't believe the situation of his family is relevant," he said. "I don't believe my family is relevant. The families of New York are what's relevant."
"What I've tried to do most of all this past week is just not go there, not be dragged down, not succumb to it. And frankly, I think I've done it."