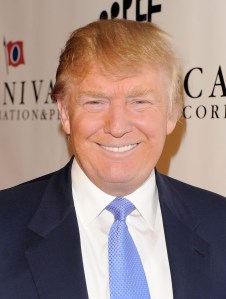 A telephone poll was conducted last month in the early primary state of New Hampshire asking whether or not real estate mogul Donald Trump would be a viable candidate for the presidency.
Trump denied having any knowledge of the poll, and at first played coy on whether or not it was an indicator of any future political aspirations. Now, today on Fox and Friends, Trump said he was "seriously" considering throwing his hat in the ring in 2012, the New York Post reports.
"For the first time in my life, I'm actually thinking about it [running for president]," Trump told Fox News Channel. He added, "I see what's going on with this country and it's never been worse. What's happening is a disgrace."
When asked what party he would affiliate himself with, Trump said the Republican party.
The poll, which was first reported on by Time magazine on Monday, mentioned a variety of potential candidates and pairings, but 30 of the questions were about Trump.
The potential Republican candidate today continued to deny that he had any part in the New Hampshire poll, but did mention that "I hear the results are amazing."