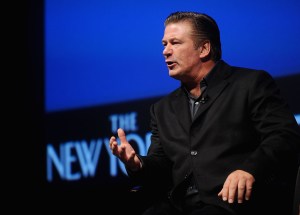 Alec Baldwin has recorded a series of commercials for WNYC's pledge drive and they just debuted this morning.
One features Mr. Baldwin threatening to send Ira Glass to a Spanish pop station, another has him yelling at Robert Siegel for not baking cookies worthy of the actor's donation. One even comes with swelling music that recalls a Baldwin 30 Rock pep talk.
The main event is a take on Mr. Baldwin's famous monologue from Glengarry Glen Ross, which David Mamet actually added to the film version just for him. In this promotion, Mr. Baldwin urges listeners to "put the coffee down" and tells them to "always be pledging."
Mr. Baldwin must be a great fan of public radio. Or maybe he's gunning for Kurt Andersen's job again.
Glengarry clip below.