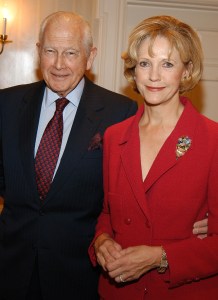 After her 1998 divorce from media Zeus Rupert Murdoch, Anna Murdoch Mann likened her emotional state to "coming out of a deep mental illness."
Many real estate brokers in New York City may describe the past two years similarly thanks to the post-Lehman apocalypse sending apartment prices plummeting to mind-numbing depths. Yet for a mid-recession listing, Anna Murdoch Mann seems to have kept her wits–and prices–about her. Ms. Mann (she remarried to widower William Mann in 1999) listed her 25 Sutton Place co-op in September of 2009 for $6.8 million with Sotheby's Mary Kent, who could not be reached for comment. After a year of strategic price shavings Ms. Mann, who resides in Palm Beach, Florida, succeeded in selling the three-bedroom, 10-foot-ceiling-ed apartment for $6.25 million.
The high-floor Candela co-op with "fabulous river views," a marble bath and a rambling wood-paneled library replete with a wood-burning fireplace, sold to Taconic Capital Partners principal Frank Brosens and his wife, Deenie. Mr. Brosens, a significant donor to the democratic party, was in 2009, one of the leading contenders to run Tim Geithner's TARP program before withdrawing his name from the running allowing Fannie Mae veteran Herb Allison to take the helm.
Mr. Murdoch, who lives with his current spouse, Wendi Deng, in their $44 million triplex penthouse at 834 Fifth Avenue, divorced Anna, his wife of 31 years and mother of three of his children, before promptly dismissing her from the board of directors of News Corporation. And though many believe Ms. Mann was entitled to a larger stake of Murdoch's then $7.8 billion fortune she left the divorce with a mere $200 million–a drop in the Murdoch bucket, but then again a $6.25 million apartment sale is a similar drop in her $200 million bucket.