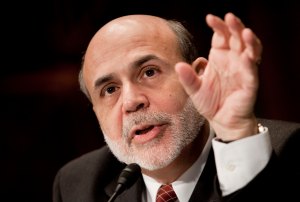 Another Federal Reserve official, New York Fed markets group chief Brian Sack, is suggesting the central bank take stimulative monetary action to revive the economy from its current tendency to grow far too slowly to make anybody happy.
Saying that the Fed's purchase of Treasury securities, also known as quantitative easing, has "helped foster more accomodative market conditions." Sack said that expansion of this policy would continue to bolster the economy. Fed Chairman Ben Bernanke has indicated that the central bank is ready to engage in more easing if it's required.
The presidents of two Federal Reserve regional banks — New York's William Dudley and Chicago's Charles Evans — endorsed Fed action last Friday, and today the central bank swore in two members of its board of governors who are expected to support easing. Philadelphia Fed president Charles Plosser has recently expressed skepticism that another round of easing.
The Federal Open Market Committee, which makes decisions about the Fed's monetary policy, will meet on Nov. 2 and 3 to debate what the central bank should do next.
mtaylor@observer.com
Twitter: @mbrookstaylor