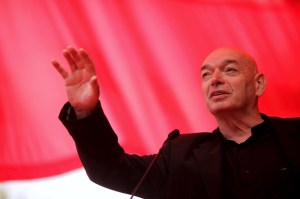 In some ways, it is surprising that French architect Jean Nouvel has seen any of his otherworldly designs built, never mind him starring in news segment on CBS Sunday Morning, the show beloved by retirees and still-rolling club kids, which is about as Middle America a platform as a foreign architect could hope for.
Nouvel is no Robert A.M. Stern, the high-interpreter of the past-as-perfect. He is not the pretensious sculptor Frank Gehry pretends to be. Not the diamond-encrusted Christian de Portzamparc, nor the sensualists Herzog & de Mueron. No, Nouvel is the closest thing architecture has to a philosopher king, and he not only designs but even speaks in a way that can at times be impenetrable.
And yet his success is undeniable. He has he won the Pritzker Prize (architecture's Nobel) and realized a number of successful works, not only in his native France but also right here in New York: 40 Mercer Street, the nearly completed 100 11th and the still-getting-its-haircut MoMA Tower. He has even built in the middle of Middle America itself, with his Guthrie Theater in Minneapolis. And earlier this month an H&M outlet on the Champs Elysees opened–about as down market as one can get.
As Nouvel explains to CBS's Sunday Morning yesterday, "For an architect, to build in Manhattan, it's kind of a dream." Then he goes on to talk about, yes, "sexual obsession." Oh, the French…