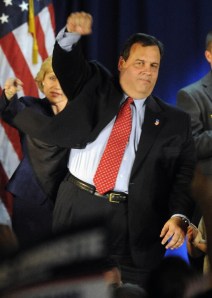 Dan Donovan had his big-ticket fundraiser at the Midtown Sheraton last night with George Pataki, Ed Koch, Mike Bloomberg and Chris Christie of New Jersey headlining.
"There needs to be an independent watchdog for what is going on in Albany and across the state of New York. And it is not just that Dan Donovan is the best choice. In my opinion he is the only choice in this year's election," Christie told the crowd of about 300 donors, adding, "I haven't done any across the river this year to appear for a candidate but when Dan asked if I would I felt strongly about doing this.
The event was expected to bring in close to $1 million to the Donovan campaign, necessary cash indeed and more than triple what they have on hand now, but a far cry from the close to $2 million they expected.
Former mayor Rudy Giuliani was slated to attend, but couldn't make it due to a scheduling conflict.
Before the event, the political dignataries were brought into a room so that the assembled press could snap photos. A few members tried to squeeze off a couple of questions to Gov. Christie about the ARC Tunnel, the Hudson River project which Christie abruptly shut down.
And Christie, showing some of his trademark New Jersey charm, wasn't having it.