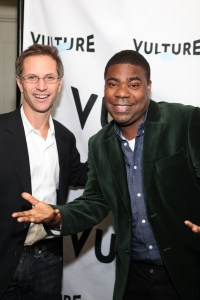 Larry Burstein, the publisher of New York magazine, was standing outside the barroom on the fifth floor of the SoHo House on Tuesday night taking pictures with Tracy Morgan
"Larry! Larry!" the comedian squealed, draping one arm over the shoulder of Mr. Burstein's navy suit and rocking him back and forth for the camera. "Larry! Larry! Larry!" Both men wore big smiles. Mr. Morgan was hired to help the magazine celebrate the relaunch of Vulture, its entertainment blog, as a stand-alone website.
Adam Moss stepped in for his turn with Mr. Morgan. "What's up, Adam Moss?" said Mr. Morgan, clasping the editor's right hand and pulling him in with his left arm for a hug against his chest. "Mr. Moss! Mr. Moss!"
After a few pictures, Mr. Moss came back into the party and grabbed a small fried appetizer off a tray. "I need one after that," he told a few of his staff huddled near the door.
"I know about one fifth of the people here," said one Vulture editor, looking over the room. Editors from the magazine's other blogs weren't invited. Everyone else looked like advertisers and publicists. There were also two Wassersteins.
Vulture editor Josh Wolk returned from his own photo-op with Mr. Morgan. How was that? "It was weird," he said making his way across the room toward the bar.
As the room was filling up, Mr. Burstein stood by one wall with Michael Silberman, the general manager of nymag.com. Mr. Burstein told The Observer that his magazine's digital properties were making money.
A lot of money? "We're making money," he said. Will the web pay for the magazine some day? "We're investing heavily in the web right now," he said. OK!
"Vulture started out as a humble blog on New York mag dot com," Mr. Burstein said a few minutes later, standing with a microphone before a paneled beige wall at the front of the room. "It has become a full-fledged online entertainment magazine with the mind of a critic and the heart of a fan."
Mr. Burstein passed the microphone off to Mr. Morgan, and he began his set. "All you smart people in a room — I better get my GED or something. I'm intimidated," he said. He was wearing a forest green corduroy blazer, black pants and two-toned gray-on-black boat shoes. "This is all New York magazine?"
"Yeah!" shouted Mr. Moss standing near the front of the room, setting the tone for audience engagement.
"There's some pretty ladies here tonight," Mr. Morgan continued. "Somebody's gonna' get pregnant." He explained why he likes to watch grown women shop for cucumbers. He offered tips for keeping a marriage alive, including cooking "lasagna with six different cheeses." He tried twice to get everyone in the room to say the n-word in unison. Nobody was game, but everyone chuckled along.
Mr. Burstein stood with his drink off to the side behind a green wingback chair. "I just gotta' be careful with these gold diggers out there," Mr. Morgan said, walking over to Mr. Burstein's side of the room with the microphone.
Mr. Morgan folded his arms and leaned against the wall, striking a confessional tone. He stared at the publisher 10 feet away. "That's my thing, I got money now so them gold diggers are coming out the woodworks. I went to dinner with one last week," he said. "She was ordering lobster and shit like she got it like that. I was like, 'You know that lobster tail — that's a three finger in the butt hole minimum." Mr. Burstein finished his drink.
"Any gay people in here?" Mr. Morgan asked. The room got pretty quiet. "My friend are all kinds, my friends are all kinds. I just think that gay guys get sensitive sometimes." He paused. Mr. Morgan continued, "If you can take a dick, then you can take a joke." Mr. Moss laughed deep and loud.
"It's all weird," Mr. Moss said when the set was finished. He was explaining what it's like to edit a magazine that's becoming more like a media company, with standalone web properties. "When I started in this business there was like one way to do things. Now there's a million ways to do things."
He said he had an idea of how Hugo Lindgren, his longtime colleague at The New York Times Magazine and later New York, was going to run The Times Magazine. "I have some guesses in my own head that I'll keep to myself," he said. "I'm sort of curious as an experiment to see if that's what happens."
Does Mr. Moss see The Times Magazine as competition? "We'll see," he said. "The New York Times Magazine has always been a little bit of a competitor."
He said that he and Mr. Lindgren had exchanged a few phone calls during the interview process. Mr. Moss offered his congratulations over email afterwards.
We asked Mr. Moss if he thought Mr. Lindgren would ever come to him for advice. "I don't think so," Mr. Moss said. "I wouldn't expect him to. Maybe he'll call me up and say can I hire X-person — maybe he will, maybe he won't."
"He's a grown-up," Mr. Moss added.
He said he was happy that New York magazine alumni have gone on to top positions at other titles. Mr. Lindgren hired former New York editorial director Lauren Kern as his deputy earlier this month. "I'm very proud of that part," said Mr. Moss. "We have a great team. We've had a great team. It's a great place to learn how to do stuff and to grow up and do stuff somewhere else, as it should be."
We've heard the same thing about The Times Magazine — that it's the best school for editors.
"Well everyone says that. I used to say that when I was at The Times Magazine. I say that when I'm at New York magazine. Wherever I am 20 years from now, I'm sure I'll say that again," Mr. Moss said. "It's just one of the great clichés of publishing. But it's always true though."
zturner@observer.com / @zekeft