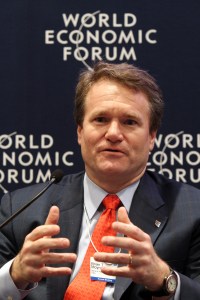 Last week, when Bank of America announced that it would soon resume filing foreclosures, a BofA spokesperson told The Wall Street Journal that the bank was firing up the home-repossession machinery in an effort at "debunking speculation that the mortgage market is severely flawed." Suffice it to say that the bank hasn't entirely reaped the fruits of that effort; it has now acknowledged "errors in 10 to 25 out of the first several hundred foreclosure cases it examined starting last Monday," The Wall Street Journal reports.
According to BofA officials, many of these mistakes weren't a huge deal — a misspelled name here, a missing signature there. The Journal points out, however, that these errors emerged in less than 1 percent of the files Bank of America has set aside for review.
But the report also reveals that a previous statement by BofA expressing the conviction that its foreclosure paperwork was accurate was based on review of fewer than 1,000 documents. Now that the bank is going over around 102,000 cases, additional flaws appear to be popping up. Looks like we've just witnessed a case study in the public-relations benefits of sampling bias.
mtaylor [at] observer.com | @mbrookstaylor