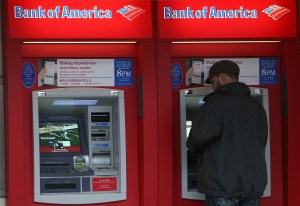 Apparently having succombed to nostalgia for the hardscrabble, rough-and-tumble credit markets of 2008 — when men were men, and mortgage bonds were crammed into ever-swelling packages — Bank of America is now seeking to meet elevated capital requirements by throwing hard-to-sell assets into new securities.
Bloomberg reports that BofA is using a complicated trick known as a "re-remic," as it seeks to conform to the new Basel III capital rules. When a bank re-remics something, it takes mortgage bonds and packages them into new securities that have investment-grade ratings. Using this method, the bank shed 15 percent of its residential mortgage-backed securities holdings, according to Bloomberg.
The reason for doing this instead of, you know, raising capital by issuing stock, is that doing so is dilutive to shareholders. So will these re-remics work? Here's some of Bloomberg's take:
"The underlying problem is that securitization professionals were securitizing loans they knew were going to fail," said Tavakoli, founder of Chicago-based Tavakoli Structured Finance Inc. and author of books on securitization. "None of those problems has gone away."

In May, S&P cut to junk the ratings on re-remics granted AAA grades when they were created in 2009 by companies such as Credit Suisse Group AG, Jefferies Group Inc. and Royal Bank of Scotland Group Plc. The downgrades to about $150 million of debt "reflect our assessment of the significant deterioration in performance of the loans backing the underlying certificates," Cesar Romero and Terry G. Osterweil, analysts at the New York- based ratings firm, said in a note at the time.
Circumventing capital requirements through securitization techniques that tend to overvalue assets? Pretty classic. We just thought it would take more than a couple years for retro fever to set in.
mtaylor@observer.com
Twitter: @mbrookstaylor