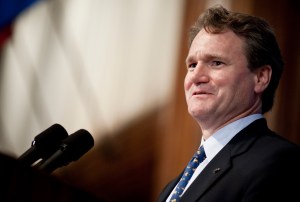 When an analyst asked how significant foreclosure-paperwork mistakes might be given the press attention they've received, Bank of America said it's not as concerned as some industry observers have been.
Bank of America, the only bank to take its foreclosure moratorium nationwide (edit: GMAC has also suspended foreclosures in all 50 states), today reiterated that it's re-filing 102,000 foreclosure affidavits, saying that it has reviewed its procedures and feels confident in paperwork.
It's also undergoing an independent review of completed affidavits "to ensure quality and factual accuracy," and is interviewing the employees involved in the process. (Those conversations must be awkward.) In any case, Bank of America once again said that it expects fewer than 30,000 foreclosure sales to suffer delays as a result of the review.
As fellow banking giant JPMorgan Chase did on its conference call last week, BofA offered a general explanation of its more benevolent procedures, saying that it tries to fit delinquent borrowers into loan modification programs or short sales and deeds. The company also said that it has increased headcount at its default management division by 93 percent to 20,000. It has also hired "door knockers" to talk to customers face to face.
For foreclosure sales, BofA said that 80 percent of borrowers have not made a payment in more than a year, the average foreclosed homeowner has been delinquent about 18 months, one-third of the properties were vacant and half of the borrowers were unemployed or facing reduced income. In other words, many people who get foreclosed on haven't made payments in a very long time, and a significant portion of them have apparently abandoned their houses.
mtaylor [at] observer.com | @mbrookstaylor