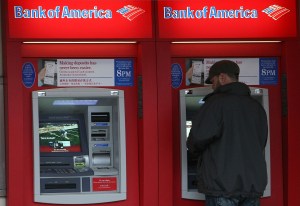 Amid increased fervor surrounding what looks to by widespread errors in the foreclosure process, investors today are showing a marked lack of confidence in Bank of America, the nation's largest bank by assets and, notably, the 2008 buyer of bumbling mortgage firm Countrywide.
As Fortune points out, shares of Bank of America today hit a 52-week low in what appears to be a signal that the markets are concerned that the mounting crisis could wrack the with severe troubles. Putting a fine point on the matter, Standard & Poor's Equity today stripped BofA of its "buy" rating, saying, "[W]e have a lower level of confidence (than we do for J.P. Morgan Chase), that BAC has adequately prepared for, and reserved for, future mortgage repurchase demands from the GSE's and investors, and for the potential administrative and legal costs of the rising foreclosure crisis."
The downgrade comes as attorneys general in every state ramp up inquiries into potentially widespread fraud and faulty paperwork related to a rising tide of foreclosures. In September, bank seizures of homes topped the 100,000 mark for the first time ever. And now the market is worrying that banks could be held liable to investors who bought securities that were made up of shoddy, legally questionable mortgages.
BofA rival JPMorgan Chase disclosed earlier this week that it set aside an additional $1.3 billion to safeguard against legal hassles — mortgage-related and otherwise. Analysts asked a few questions about potential mortgage liability on JPMorgan's quarterly earnings conference call, but matters related to investors in mortgage securities weren't on the front burner. It's likely that Bank of America won't get off so easy when it fields its third-quarter call on Tuesday.
mtaylor@observer.com
Twitter: @mbrookstaylor