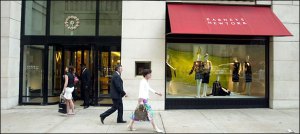 Barneys has taken its decidedly Manhattan disposition across the East River — Atlantic Avenue in Carroll Gardens may never be the same. The Barneys Co-op store's new location, which was confirmed last April, is open for business today. Mothers with money are ready to open their wallets, and residents who harbor nostalgia for a falsely remembered past are poised to complain. To them, an entire ethos is at stake.
"I can't even afford to look," Tony Consiglio, a law student at Brooklyn College, told the New York Post. "Back in the day, Barneys was not so totally corporate. It had more character. It changes the character of the neighborhood." (OK, yes, emphasis ours.)
But anyone who's taken a stroll through those comfortable Carroll Gardens thoroughfares, replete with strollers and classic automobiles, knows that the Barneys Co-op will not be too short of customers. The company's press release says the Brooklyn high fashion outpost will stock its shelves with all the lines one would expect — Alexander Wang, Phillip Lim, Rag & Bone, Vena Cava — and chances are they will make their way into neighborhood shopping bags.
And the kids are totally stoked!
"I think this is great," Linda Berminghman, real Carroll Gardens mother, told the Post. "My daughter is 20 and she's coming home from college this weekend because Barneys is opening."
Leaving campus just to shop at a cred-killing clothier? College must not be as fun as it used to be.
nfreeman@observer.com