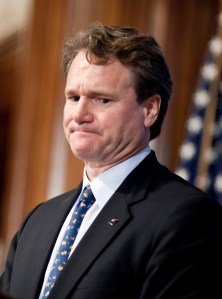 Following recent reassurances from three of the nation's largest banks that the foreclosure paperwork kerfuffle won't wreak balance-sheet havoc, Bloomberg reports that three huge players in the world of finance are saddling Bank of America with putback requests.
Bond-market titan PIMCO ("the authority on bonds"), private-equity giant BlackRock and none other than the Federal Reserve Bank of New York are looking to force Bank of America to buy back $47 billion in mortgage-backed bonds assembled by Countrywide Financial, which BofA bought in 2008 amid bankrutpcy rumors.
Bloomberg says: "A bondholder group wrote to Bank of America and Bank of New York Mellon Corp., the debt's trustee, citing alleged failures by Countrywide to service the loans properly, their lawyer said yesterday in a statement that didn't name the firms." Citing unnamed sources, Bloomberg fingers insurance firm MetLife and asset manager TCW as joining PIMCO and BlackRock in the complaint.
Bank of America CEO Brian Moynihan earlier today said that his bank would "vigorously contest" putback claims. Just this morning, the company said that as of Sept. 30, mortgage buyback claims against the company stood at $13 billion. Management worked to downplay the risk these legal fights could pose to the company, but also warned that going forward, the size of costs related to putbacks was "going to be lumpy."
Looks like BofA is taking one of those lumps.
Update: Yves Smith at Naked Capitalism throws some cold water on this story:
Note several things before we go any further: first, this is NOT litigation, it's a mere nastygram. Second, this is almost certain to be a new strategy in a effort mounted by an investor group (presumably now identified to turn up the heat on BofA) which so far has gotten nowhere. An unidentified group tried pressuring the trustee of a similar amount of bonds to direct the repurchase of loans gone bad. The trustee said it wasn't going to do anything. So now the same line is being tried on the servicer, Countrywiide, this time alleging that it is Countrywide's responsibility to buy back the loans.
mtaylor [at] observer.com | @mbrookstaylor