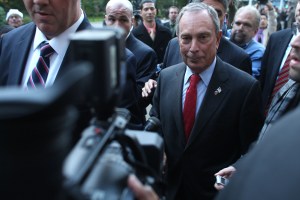 Last spring, Michael Bloomberg stood on the steps of the federal courthouse in Lower Manhattan and pledged to do "everything I can" to make sure that Dan Donovan became New York's next attorney general. Mr. Donovan, who had just launched his campaign, beamed.
Over the past few months, the mayor has in fact done a lot. He praised Mr. Donovan, bashed his opponent, donated over $35,000 and lent out several close aides, including Bradley Tusk, the key architect of his own 2009 reelection campaign. Still, when Mr. Bloomberg promised "everything," it was thought to mean something more precious: gobs and gobs of cash, of the kind that only billionaires who have lots of billionaire friends can produce.
"Bloomberg gives you instant credibility, but you also think, well, his guy is going to have money," said veteran Democratic consultant George Arzt. "They will have Mike Bloomberg's list [of donors]."
And Mr. Donovan would certainly need the money, as would Harry Wilson, the ex-money manager running for comptroller who received Mr. Bloomberg's blessing a few months later. Both are Republicans running in a state where Democrats outnumber them by nearly two-to-one. For Mr. Donovan, a fund-raiser was planned at Mr. Bloomberg's 12,500-square-foot Upper East Side mansion in June. Mr. Wilson is to have his in a couple of weeks.
But when Mr. Donovan released his campaign filings last month, the political world was stunned to see that he had only $400,000 on hand, less than half of what his Democratic opponent Eric Schneiderman had in the bank, even though Mr. Schneiderman had just slogged through a grueling primary. Mr. Wilson had considerably more, but most had come out of his pocket.
A quarter of Mr. Donovan's money, according to The New York Times, has come from the family and friends of Paul Singer, a wealthy hedge funder who had been encouraged to give by Mr. Bloomberg. The story behind the donor, however, was less interesting to political rainmakers than the news that Mr. Bloomberg had been able to convince so few of his other wealthy friends to contribute to Mr. Donovan.
The discrepancy has led political insiders to recalculate the value of Mr. Bloomberg's endorsement. Even if the mayor promises "everything," a candidate can no longer assume that he or she will enter the final weeks of the campaign well heeled. Yes, the mayor will give his name to your cause, and yes, he will host a fund-raiser and donate to the max. Anything else, you are on your own.
"There is a difference between being a rich person and being a bundler," said one Democratic operative. "He will write you the check for $37,000. But does that mean he is going to round up all his friends and raise a million dollars for you? No."
Politicos say that part of Mr. Bloomberg's reluctance to tap into his wealthy network is that, as a self-funded politician, he has never had to do so. Corralling donors is considered the grunt work of political campaigns.
"The theory is that if you have one person that has a fair amount of money, they would have friends who are equally wealthy and you will be showered with cash," said Basil Smikle, a political consultant who worked on Mr. Bloomberg's 2009 effort. "But that's not the case. Just because they have access to those people doesn't mean they will be more inclined to listen to you. Not to mix metaphors, but it will open doors for you, but it doesn't necessarily get you to the dance."
Mr. Bloomberg is of course the mayor of a major world capital and so, well, kind of busy. And even though he will fund-raise for other causes, like the Mayor's Fund to Advance New York City and the National September 11 Memorial, political consultants say that they don't expect much more from him than a hosted party on the Upper East Side.
"They will ask what else they can do for you, but you get the feeling that you have one ask," said one Republican consultant. "It can be an appearance, a parade, a fund-raiser, but it's only going to be one thing."
His endorsement, however, does make it easier to reach out to wealthy donors and provides an imprimatur of bipartisanship and independence so that candidates can pitch Democratic and Republican donors alike.
And then there is his mansion. There, would-be donors munch on hors d'oeuvres and sip wine that is just a tad better quality than the rubber-chicken dinner circuit. They hear stories about the art on the walls. They gather around a spiral staircase and hear short speeches by the mayor and the candidate. The event is usually over in two hours.
Both Mr. Donovan and Jonathan Bing, an Upper East Side assemblyman who had a fund-raiser there over the summer, grabbed more than $100,000. Mr. Bing, though, conceded that much of the money came from people wanting to get a look at the mayor's house, and most of the donors at the Donovan event hailed from Staten Island or knew the candidate for years.
Still, a fund-raiser that takes in more than $100,000 ain't shabby, and is typically two to three times what most soirees net a candidate. Ken Langone, for example, dropped more than $50,000 at Mr. Bloomberg's house, but most of the rest of the donors that night were in the $1,000 range. If dozen more Langones had come through, Mr. Donovan would have had it made.
"You can ask for a fund-raiser, but that doesn't mean that Bloomberg's friends show up," said one consultant. "But you do get to use his house."
But over time, he added, even this draw has begun to fade.
"Early on, enough people wanted to see Bloomberg's house; it was an easier sell. Now everyone in politics has pretty much been there."
dfreedlander@observer.com