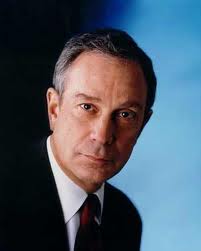 Mayor Bloomberg was at Facebook headquarters talking about innovation today, and he shared more than a few stories of how to play hardball and stay ahead of the compeition.
Bllomberg recalled a day he called his top deputies into his office and told them they were switching positions within the company,
You're not going back to your desks, I've assigned somebody, right now while you're sitting here, somebody is cleaning out your desks, they are putting everything in boxes and here's where you go next. It was one of the better things the company did because all these managers had a new view on what the rest of the company was doing, and also new opportunities to do something exciting for themselves.
Bloomberg said that Facebook and Apple are great examples of tech companies that have been game changers. "But just being a game changer doesn't mean you'll be a success. I'm impressed by companies that innovate over the long term and outlast their competitors through more than one cycle."
You hear that, Zuckerberg? Bloomy is not impressed yet.
Government is a different sort of challenge from business, said Bloomberg, because you're beholden to the press. "The press, and by extension the voting public, demands answers from government that you can't answer, by definition, when you're trying to do something innovative. The dead ends are as important, because you know in the future not to follow that path."
Bloomy gave a definitive "No!" to the question of a future presidential bid, and expressed optimism about continuing to bring his business approach to the job of government. "The good news is, we are getting closer and closer to treating our citizens like customers."