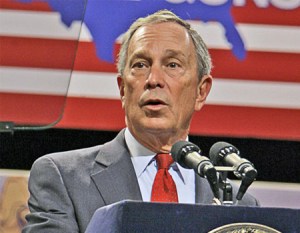 Mayor Michael Bloomberg stopped by Facebook headquarters in Palo Alto this afternoon to deliver a speech on innovation in business, encouraging the congregation of youngin's to look to creative powerhouses to keep Facebook relevant in changing times: Aretha Franklin, Diana Ross, Mick Jagger, and even Ralph Lauren. Make it work!
"Fashion, every year it changes," he said. "Take a look at a guy like Ralph Lauren. Ralph Lauren has been for 30 plus years at the top of his game."
Bloomberg, in a Zuckerberg-esque navy sweater, showed a bit of cross-Valley allegiance. He brought his iPad to the podium, holding it up twice and calling it a "gamechanger."
"Apple is a company that every single day innovates and keeps working hard, and when somebody passes them they come back the next day with something even better."
He waxed nostalgic about the early days of Bloomberg LP, in a time pre-PC and Internet ("I know most of you don't know there was a period before those two things"). Several questions from the audience seemed fitting of a company entering adolescence: How does Bloomberg LP maintain transparency? Are there problems maintaining majority ownership?
On these question, Bloomberg demurred, saying his time these days is spent running a city, not a company
Still, the employees of Facebook nation still had more questions.
Where does innovation come from in the public sector? Are you going to run for president? (No.)
The queries were interrupted by the occasional "Go Yankees!" cheer.
"Somebody this morning gave me a San Francisco Giants cap. Do they have a baseball team? They also gave me a Stanford hat. I'm going to wear it this afternoon and Facebook it to them."