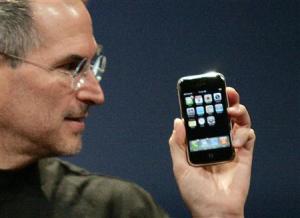 Bloomberg TV is running a new biopic series called Game Changers, a sort of "Behind the Music" for business types intended to compete with CNBC's late night specials on the business of porn, drugs and the mob.
The series will feature pseudo-controversial stars like Jay-Z, but seems to mostly focus on traditional Bloomberg tech types. It kicked off last week with Mark Zuckerberg and continues this week with Steve Jobs.
But that doesn't mean Game Changers isn't bare-knuckled stuff.
Last week starred the estimable Nicholas Carlson, deputy editor of Business Insider, quoting Mark Zuckberg's IMs. "I'm going to 'blank' them. I'm going to 'blank' them right in the ear."
This week Bloomberg scored a talking head, unidentified in the preview, to compliment Steve Jobs' ability as a pitchman.
"There's wasn't a goat farmer in Afghanistan that hadn't heard about the f**cking iPhone."
Last week Carlson had to literally say "blank." This week Bloomberg opted for the edgier F – silence vowel – CK. Heads up CNBC, they're coming for your turf.