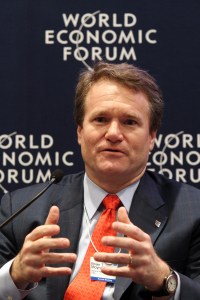 A Bank of America spokesman told The Wall Street Journal that the banking giant has started to rework 102,000 pending foreclosure filings in the 23 states where bank home repossessions have to be reviewed by the courts. The new documents, complete with proper signatures, should be ready to file by Monday of next week, the bank said. What's more, foreclosure sales should be up and running by November! Back in business!
The spokesman told The Journal that the move "is an important first step in debunking speculation that the mortgage market is severely flawed."
That's a case Bank of America would certainly like to make. Last week, the company's stock price got hammered on worries that the bank's 2008 acquisition of catastrophically mismanaged Countrywide Financial may have placed it directly in the line of fire in the emerging foreclosure battle. Of the financial firms that have called a halt to foreclosures so they could get their paperwork in order, Bank of America was one of the only ones to suspend the process in all 50 states.
On Friday, Bank of America began combatting the sentiment that it above all other banks stood to lose in the foreclosure debacle. A BofA spokesman at that time told Bloomberg that the costs of the shoddy paperwork would be minimal.
We're likely to get more details on Bank of America's take on the foreclosure situation tomorrow when the company reports third-quarter earnings.
mtaylor [at] observer.com | @mbrookstaylor