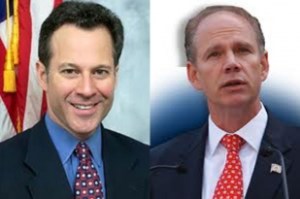 Both candidates for attorney general emailed statements this morning condemning Carl Paladino's comments at two Orthodox synagogues in Brooklyn yesterday.
"Any statements of this nature are offensive," wrote Republican Dan Donovan, who has said he personally favors civil unions. "We should be fostering a dialogue on tolerance. These statements do not achieve that, and I do not agree with them."
Donovan had heretofore been reluctant to get involved in the governor's race, repeatedly citing his inability to endorse–on account of his day job as Staten Island's district attorney–when asked about some of Paladino's other controversial remarks (and emails). His opponent, Eric Schneiderman, had continually hammered Donovan for not disavowing his running mate (which might explain why Donovan issued such an early statement–even before Schneiderman's).
"The next leader of this state must stand up for the rights of all New Yorkers," Schneiderman said in a statement. "On the very week that gay youths are being attacked and even killing themselves, we need our leaders to lower the temperature, not raise it. Carl Paladino's comments suggesting that these innocent New Yorkers are dysfunctional and abnormal, at a time when they are being brutalized, are unconscionable and demonstrate once again that he is unfit to serve as Governor of New York."
It should be noted that Paladino, while taking a strong stance against same-sex marriage, did not use the word "dysfunctional"–contrary to some early reports, which relied upon a written version of his speech.