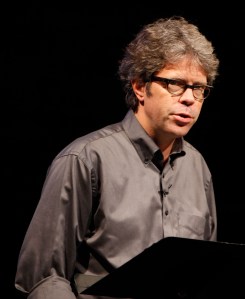 After being given an edition of Jonathan Franzen's Freedom that lacked the pristine copy of the American version, readers in England can now experience the much-lauded novel in its full, typo-free glory.
The British operations of HarperCollins will pull nearly all of the 80,000 books from shelves and replace them with a corrected version, the BBC reports today. "They are minor corrections, things like typos and punctuation errors," a spokeswoman for the publishing company told the BBC, "but, obviously, if you're Jonathan and you have spent 10 years working on a novel, you want the finished product to go out." The novel, which came out a month ago in the U.S., was released in the U.K. earlier this week.
The Guardian writes that at a London reading last night, Franzen acknowledged the errors — the printer had accidentally gone ahead with an old draft — and asked readers to hold off on buying the book until Monday. Readers will be able to distinguish the errorless version by a sticker with the book's (extremely positive) review in The New York Times, HarperCollins said in a statement.
So far, American booksellers and readers have not reported imperfections in the stateside version of the novel.