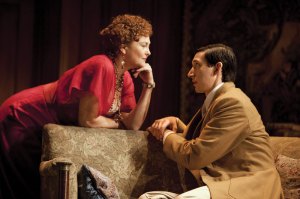 Mrs. Warren's profession is never stated in George Bernard Shaw's Mrs. Warren's Profession, but it's perfectly clear. She's a high-end prostitute turned high-end madam, and she's been wildly successful. She's rich, and her money has paid for a fine life for her daughter, Vivie–tutors, schools, clothes and, ultimately, Cambridge.
As the play begins, Vivie is away in the countryside, a university graduate, third in her class in mathematics, reading up on law so she can work on actuarial tables in London. Her mother, whom she barely knows (all those tutors and schools) and about whom she certainly does not know the truth, has come to visit. Vivie will learn her mother's career; she will reject marriage proposals from two men; and she will ultimately reject her mother.
The Roundabout Theatre Company's revival of Mrs. Warren's Profession opened Sunday night at the American Airlines Theatre, directed by Doug Hughes and starring the always amazing Cherry Jones as Kitty Warren and Sally Hawkins as Vivie.
Shaw wrote the play in 1893, as a commentary on the strict gender roles of that Victorian time–Vivie is the New Woman, determined to have her own life and career–and as an indictment of the capitalist system that enforced those gender roles. The play was initially banned in London for its portrayal of prostitution–Shaw presents Mrs. Warren's work as a rational economic choice–and on its New York premiere, in 1905, the entire company was arrested.
This time, things are more sedate. The supporting cast is fine–notably Edward Hibbert as Mrs. Warren's artistic friend, Mr. Praed–if sometimes a bit indecipherable behind their accents, and Scott Pask's sets are picture-postcard-pretty takes on the English countryside. The dialogue is, of course, delightful.
But the leads seem miscast. Ms. Jones–the doubting nun of Doubt, the (usually) steadfast and admirable President Allison Taylor of 24–is so commanding in her role, and Ms. Hawkins so mousily virtuous, that Shaw's intended relationship between the two characters seems almost inverted. Mrs. Warren should represent the stifling past for British women; Vivie should represent the rationalized future. Instead, Vivie seems a scold and Mrs. Warren the charismatic, modern realist.
Ms. Jones also gets to make arguably the play's most current relevant point: That "people aren't want they pretend to be," and that "the big people, the clever people, the managing people, all know it." They're all, in their own ways, whores.
THE WEEK'S OTHER British import is The Pitmen Painters, the mostly true story of a group of northern English miners who in the 1930s and 1940s took up painting in an art-appreciation class and became art-world sensations. It was an enormous hit at London's National Theatre last year, and it has a nice story, performed by an impressive cast (all Brits, all part of the production since its 2007 debut in Newcastle, along with its director, Max Roberts).
But onstage at the Manhattan Theatre Club's Samuel J. Friedman Theatre, where it's now playing, The Pitmen Painters comes across as another British lecture to New Yorkers on the value of art (and, this time, socialism).
In last season's imported lecture, the Donmar Warehouse production of Red, playwright John Logan, an American, channeled his carefully wrought instruction through a dynamic and charismatic character, Alfred Molina's bombastic and compelling Mark Rothko. In Pitmen, the characters, as written by Lee Hall (who knows of what he mines, having also written Billy Elliot), are mostly just mouthpieces, and Mr. Hall's writing is simplistic, often hokey.
"Yes, a Titian," says the instructor, a local art professor, introducing a slide. "Bless you," replies an uncomprehending miner. Minutes later, after the instructor has realized his students have never actually seen paintings and therefore should make their own, the officious union man in the class is incredulous: "Nobody's doing any painting in this art class!" And as the group discusses the first round of paintings, the instructor dispenses wisdom: "We don't go to art to find out about the word"–thoughtful pause–"we go to art to find out about ourselves."
The art lesson is overlaid with another, on the British class system–the upper-class professor, while devoted to his students, also patronizes them; the one miner with real artistic talent and ambition–also the only one with a real character–is offered a stipend to become a full-time artist, which he refuses because he simply can't imagine himself leaving the familiar world of the mines for the fancier one of art.
This is perhaps what endeared this genial but otherwise mediocre play to audiences and critics in London. But as last season's After Miss Julie–an update of Strindberg's Miss Julie that set the play in an English country house in 1945, and another London hit that didn't wow New York–showed, American audiences are less intrigued than English ones by discussions of the British class system at mid-century.
Here, the best things about the play are the paintings, projected at large scale onto screens onstage. They're accomplished works of art, and entirely intriguing.
editorial@observer.com