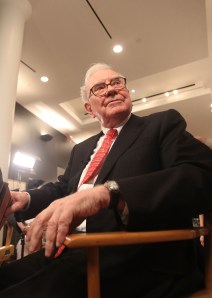 When asked by the Securities and Exchange Commission about its accounting practices, Berkshire Hathaway — Warren Buffett's enormous conglomerate that invests in things like milkshake restaurants and railroads — basically told the federal regulators that they should mind their own business, Bloomberg reports.
The SEC asked in April about Berkshire's valuations for its investments in U.S. Bancorp and Kraft Foods, which as of Dec. 31 had together racked up $1.9 billion in unrealized losses. Noticing that the losses didn't appear to result in a writedown in the value of the investment, the agency inquired about the confusion.
In May, Berkshire said, "It is reasonably possible that the market prices of Kraft Foods and U.S. Bancorp will recover to our cost within the next one to two years," and Berkshire has the means to hold on to the investments until they recover.
According to Bloomberg, the SEC on Sept. 8 declined to make additional comments about Berkshire's books. Apparently Buffet's confidence in a stock is all the accounting the SEC needs.
mtaylor [at] observer.com | @mbrookstaylor