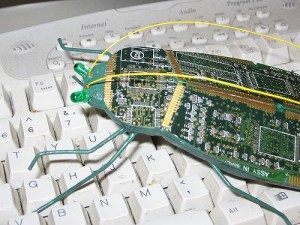 The small New York firm, Bug Labs, has become the darling of the nation's biggest carriers, who hope developers will use Bug Labs tools to create lots of cool new gadgets, inspiring consumers to purchase more of the expensive data that runs over their networks.
In the last month, Bug Labs announced partnerships AT&T and Verizon. The deals will make it easier for anyone to invent a device using Bug Labs hardware and integrate it with the nation's two largest mobile networks.
Here's the draw for AT&T and Verizon. They want more devices, like the iPad, that convince consumers to spend another $20-30 a month on data. Instead of waiting for Apple or Samsung to invent the next great category of device, the big networks are embracing the idea of open source.
Bug Labs CEO Peter Semmelhack envisions a world in which third-party developers create new gadgets that can be easily prototyped using Bug Labs' toolkit. Some will be specialized devices created by companies to fill a specific need, say monitoring the alcohol intake of long distance truckers or the direction of prevailing winds for forest fire fighters.
Other devices will be aimed at consumers, and the ones that find a mass market could then make the transition to selling on bigger platforms like Verizon and AT&T's websites and retail outlets.
"Right now there are hundreds of thousands of apps but only a few dozen mobile devices," Semmelhack tells The Observer. "We want to create an ecosystem for mobile hardware that is just as robust as the one which exists for software."
Once upon a time, this would have sounded like a noble pipe dream. But with the nation's two biggest carriers on board, and more likely eager to partner, Semmelhack's open source revolution may soon become a reality.
"New York was once a hub for creating new hardware," says Semmelhack. "I hope to make that a part of the city's DNA in the future."