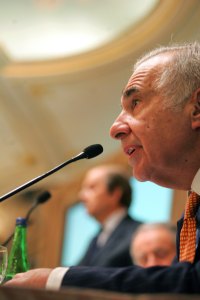 Carl Icahn, Far Rockaway's favorite billionaire, announced today that he's offering to buy Metro-Goldwyn-Mayer senior debt from the studio's creditors at 45 cents on the dollar with the proviso that they vote against a merger between MGM and Spyglass Entertainment. If the debt deal went through, Icahn would become one of the biggest creditors to MGM.
Icahn said he's willing to pony up the $963 million in principal, maybe more, in exchange for a disruption of the proposed marriage. As prospective MGM spouses go, Icahn vastly prefers Lions Gate Entertainment, in which he is a dominant shareholder.
The activist shareholder did not mince words in voicing his disapproval of the mooted joinup between MGM and Spyglass. From the press release announcing the offer:
Mr. Icahn noted that "the plan is being backed by certain members of the MGM creditors committee, and is being ramrodded through with the typical fear tactic that the "sky will fall" if the plan is not approved." Mr. Icahn stated that he believes that "it is more likely for the sky to fall if the Spyglass Plan was approved."
In case investors didn't catch his drift the first time, Icahn repeated himself. We've taken the liberty of removing every part of his statement that's not in all-caps: "I URGE ALL SENIOR LENDERS TO VOTE AGAINST THE SPYGLASS PLAN […] WE SHOULD NOT ALLOW OURSELVES TO BE RAILROADED INTO THE SPYGLASS PLAN." (Emphasis in the original.)
OKAY, CARL, WE GET IT!
mtaylor@observer.com | @mbrookstaylor