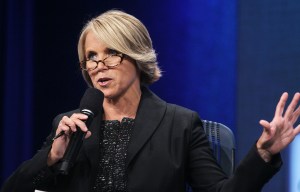 Paul Freidman, CBS executive vice president for news, flew to London earlier this week to layoff some of the network's cameramen at the London Bureau (according to Page Six, one of these men was battling cancer).
The most recent cuts in London follow broader tightening over the last two years at CBS News stateside and abroad. At the beginning of the year, CBS issued cuts to dozens of staff, including some veteran producers.
Mr. Friedman spoke with The Observer in January of 2009 as CBS was using reporters out of its London Bureau to cover stories as far away as the Middle East. "The old model no longer applies," Mr. Friedman said. "You do not need a massive infrastructure, as long as you can mobilize people quickly when the story develops." One week earlier, following cuts to CBS Tel Aviv bureau, London-based correspondent Mark Phillips flew to the Gaza Strip to cover a story.
Page Six also reported yesterday that CBS Evening News anchor Katie Couric may return to The Today Show when her contract expires in May. Insiders called the speculation "ridiculous."

Earlier: D-Day at CBS News / Do You Know the Way to Tel Aviv? For CBS, via London