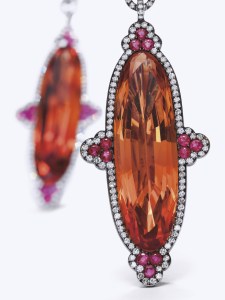 In 2005, actress Ellen Barkin wore a vivid orange dress to the Academy Awards, topped by large hanging topaz earrings encircled with diamonds and ruby clusters. But unlike most celebrities, Ms. Barkin didn't borrow the gems for the evening; she owned them. They were a gift from her then husband, Revlon founder and billionaire Ronald Perelman. The earrings, from the small Swiss jewelry house JAR, are on the block at Christie's Oct. 20, carrying an estimate of $300,000 to $400,000.
The price is hefty, but a considerable nod to the recession: The exact same earrings sold in 2006 for $710,000, at Ms. Barkin's auction of dozens of pieces from her jewelry collection. (At the time, amid a divorce from Mr. Perelman after six years of marriage and while filming Oceans Thirteen, the actress told the press: "These are just not memories I want to wear.")
Swiss-based JAR is, at best, a cult jeweler. Founded by Joel Arthur Rosenthal in 1977, and producing less than 80 bespoke pieces a year, it was largely unknown until that auction. Ms. Barkin parted with 17 JAR pieces there, giving the house significant publicity.
The 2006 Barkin auction was famously parodied in the first Sex and the City movie, where the main characters went to bid at Christie's at the jewelry sale of a woman divorcing her wealthy husband. But the auction made $20 million, the most money ever raised in the U.S. for the jewelry collection of a single owner.