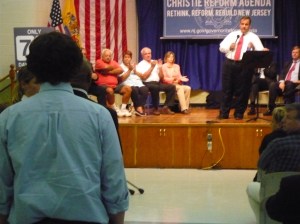 EWING – Answering crowd questions at his town hall today, Gov. Chris Christie tackled some issues on the minds of the locals in attendance.
First he teed off on legislative feet-dragging on his state Supreme Court appointment.
Then, questioned by Jim Miller, president of the Coalition for Medical Marijuana in New Jersey, Christie responded to criticism that the recommended amendment to the already-passed medical marijuana bill is too restrictive.
"I would not have signed the law that they proposed," he said. "I am not going to permit what is happening in California and Colorado. Medical marijuana has become a joke."
The law was set up to provide relief for patients who have exhausted every other remedy to reduce pain and suffering. "I don't think that's making it too restrictive," he said.
Unlike the western states: "You might as well legalize marijuana."
A sickly woman in a wheelchair quietly accused Christie of a "lack of compassion" and said she may be dead before the marijuana law is in action.
"It was slammed through the legislature in lame duck session," he said, without a plan for costs, growth, or distribution.
And he said his responsibility is to the general public, rather than any one segment of the population, to make sure those things are in place before the pot hits the streets.
On his administration's push to eliminate the state Council on Affordable Housing, "(The legislators are) delaying, because they can't figure out the politics of it."
He said the Senate has already passed it, but Assembly Speaker Sheila Oliver (D-East Orange) won't put it up for a vote. "I've got my pen. I am ready to sign (the proposed bill) as it is."
A woman who has been following Christie on his tour asking for protection from eminent domain issues in Paulboro called out "two maniac South Jersey dual officeholders" for pressuring her to turn over property while her husband is in Afghanistan fighting the war on terror.
"I leave it in the good hands of the Attorney General," Christie said. "I don't want politics to infect what we're doing here."
One man asked Christie to crack down on dead-beat parents who are negatively effecting their children's education.
Christie said the system needs to be more flexible to adjust for those children. "Whether I throw (the parents) in jail or not, I don't think they're going to become supportive parents," he said.