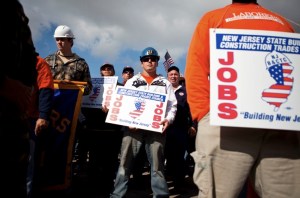 Let the ARC Tunnel obituaries resume.
When The Star-Ledger broke the news last month that New Jersey Governor Chris Christie was considering killing the $8.7 billion rail project, it led to weeks of hand-wringing speculation. When he confirmed the decision two weeks ago, Transportation Secretary Ray LaHood rushed up from Washington to try and get the governor to reconsider. Christie said he would think about it, after a few weeks of review, but insisted he would not put the state's taxpayers at risk, as the project had been expected to go at least billions of dollars over budget based on the governor's projections.
The Jersey paper is once again reporting that Christie has made up his mind, and will likely announce that he is standing firm on his original intention to kill the project and rededicate the state's $2.7 billion investment to highway construction–a slap in the face to mass transit advocates.
Is this simply another savvy move by the governor to get the attention of LaHood and convince him to kick in more than the $3 billion the feds have already committed? Without more outside funding, the project appears all but dead. Or is Christie simply playing politics, as some critics have suggested, stubbornly making some larger point about government spending, fiscal responsibility and transit ambivalance. Perhaps he has higher office in mind.