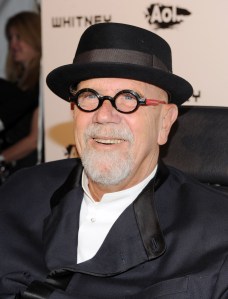 Gatecrasher today has an item about Chuck Close at Tuesday's Whitney gala and, boy, is it fun. The 70-year-old, wheelchair-bound artist crashed the more casual party downstairs, complete with dance floor, and was apparently mobbed by women.
"It was so boring upstairs, I couldn't wait to get down here with you kids," he told the paper, eventually rolling out onto the dance floor with a cluster of women.
One girl cooed that Mr. Close is "the most famous living artist in America." Jeff Koons, also in attendance, clearly needs to step up his game.
Earlier: Small Pictures of Pretty, Odd People